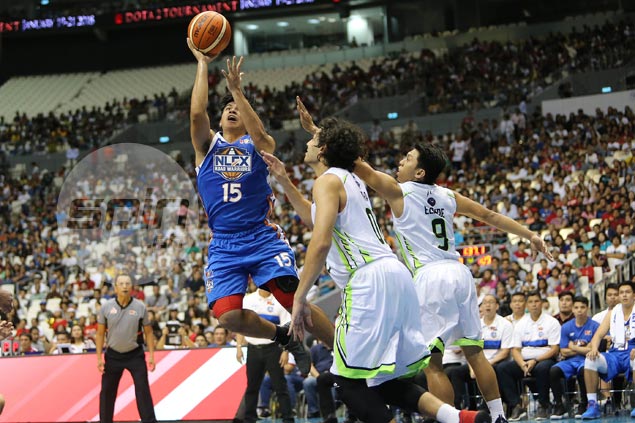 BOCAUE — Kiefer Ravena showed there is much more than the rivalry game between Ginebra and Magnolia during the PBA Christmas Day presentation.
The NLEX rookie sensation made sure not to disappoint family and fans as the PBA again brought the holiday games out of town, churning out another impressive performance in the Road Warriors' 115-104 win over Globalport at the Philippine Arena in Bulacan.
He registered 20 points, five assists, four steals, and two boards, without committing a single turnover in 29 minutes off the bench as the Road Warriors scored their second win in as many outings.
"It's Christmas, and it's nice to have family around. Of course going to the game, everybody wanted a win," this year's second overall pick said.
"You don't want to travel all the way here in the Philippine Arena, a great environment, to just play and not give it 100 percent.
"Pagpasok namin dito, ready kami to play and to win," he added. "We all wanted that Christmas gift, which is a win. Hopefully we can continue this."
While veterans JR Quiñahan and Larry Fonacier shone early, it was the rookie Ravena who brought the Road Warriors home with the dagger triple and an exclamation slam dunk in the end.
As a result, Ravena overshadowed Stanley Pringle, who put up better individual numbers of 33 points, 10 boards, four assists, and two steals as he bore the brunt of the load without injured Terrence Romeo.
"Buti nga si Stan lang eh," Ravena said.
"It's hard to contain Stan that way and then si Terrence sasama pa so medyo mahirap, mahirap bantayan. At least isa lang kinailangan namin bantayan, yung focal point ng offense ng Globalport."
"Ang mahirap dun is we gave up to many fastbreak points to Globalport, we have to take care of that," he added.
But that hardly mattered as the Road Warriors still came away with their second straight win.
"It's always nice to go home after a win, no matter how it was won," Ravena said. "Nandito pa yung family ko so it was nice for us to win and celebrate for the holidays. It's nice to play on a Christmas Day."