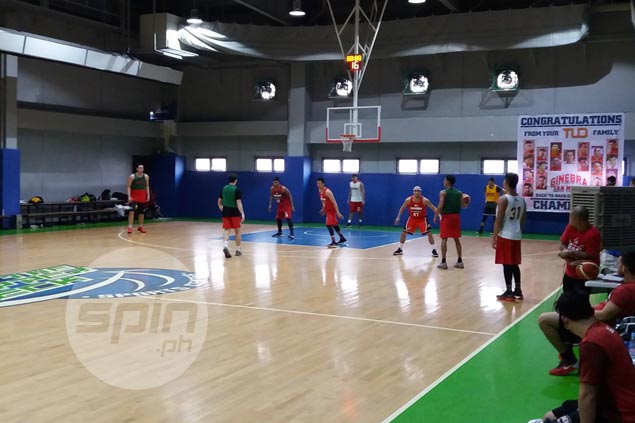 SHOOTERS are wanted as Barangay Ginebra opened its training camp for the upcoming PBA season, returning to the grind on a holiday Thursday at the Upper Deck gym.
After signing first-round pick and University of the Philippines gunner Jett Manuel, the Gin Kings are taking a look at two more shooters in former Ginebra player John Wilson and Mikee Cabahug, son of former pro Elmer and Ginebra's third-round pick this year.
It was too early to tell what Gin Kings coach Tim Cone's first impressions are on his tryouts on the first day of camp.
"It's hard to say," Cone told SPIN.ph after practice. "We just did some Triangle drills. We got defense, and we did some three-on-three work."
"These questions are going to be answered later on," he added.
Cone, though, liked what he saw from Wilson, who played for Ginebra his first two years in the league and is now trying to get back after failing to get a renewal from Phoenix.
"John was impressive," Cone said. "Everybody says we lack shooters, so we all know John can really shoot it. He's an ex-Ginebra player, but he's going to have to earn his way."
Cone has also heard some nice things about Manuel, this year's 12th overall pick who they inked to a one-year deal.
"The coaching staff was saying that Jeff has a nice body on him, rises well for his jump shot. He's got a lot to learn," Cone said.
What was more important for Cone was for his team to return to work after an almost month-long break following their Governors' Cup title defense.
"Basically, just a get-together, talked about schedules, talked about moving on, moving past, thinking about taking that thing down, because we don't want to be reminded of it every day," Cone said, referring to poster put up by Upper Deck staff congratulating the Gin Kings for their latest title.
Some Gin Kings were missing as Joe Devance, recovering from foot surgery, won't be back until January, while they've given Gilas forward Japeth Aguilar a break until mid-December.
"We're going to start working on our basics and fundamentals; that's what we did today," Cone said ahead of the start of two-a-day sessions on Saturday. "We're going to build our foundation and continue to build as we go forward, hopefully get back to where we were." 
ADVERTISEMENT - CONTINUE READING BELOW