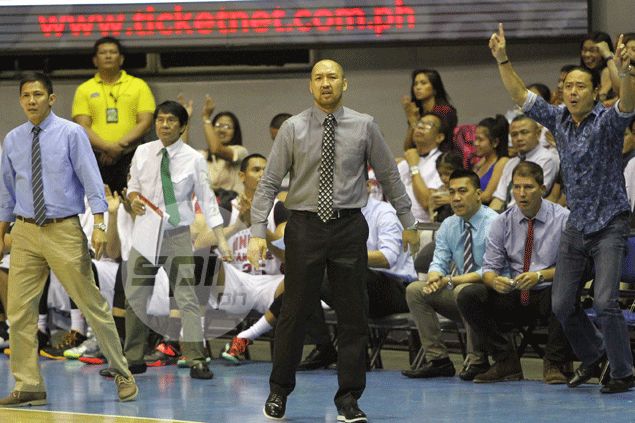 JEFFREY Cariaso admitted he and Barangay Ginebra management parted ways amicably following a disappointing two-conference coaching stint with the PBA's most popular ballclub.
The soft-spoken mentor said he reached an agreement with the franchise for a buy-out of his contract Friday. Cariaso still has a year and a conference left in the two-year contract he signed with the Kings, although he refused to divulge the amount involved.
Cariaso had a rough start for the year 2015 after being informed late December that he will be replaced by Agustin after the Kings had two quick exits in the playoffs with him at the coaching helm.
He compiled a mediocre 12-11 (win-loss) record in his brief two-conference stint with the Kings as the team struggled learning the intricacies of the triangle offense.
The contract buy-out of Cariaso eventually paved the way for his eventual return to Alaska as director of the company's Basketball Power Camp.
Cariaso said the decision to join Alaska made sense since his own events group, RSA-TITAN, has been handling the Jr. NBA and Jr. WNBA programs.
"For now, I will be joining the Alaska organization only as the director of Sports Development under the Basketball Power Camp and Jr. NBA and Jr. WNBA programs," Cariaso told Spin.ph on Saturday, his very first statement to the media since he was replaced by Ato Agustin as Ginebra coach.
"Our events group at Titan, RSA-Titan, is also handling the Jr. NBA/Jr. WNBA programs, so it's a good tie up. It made sense for me to be a part of it."
The 42-year-old Cariaso said he's excited to return to the Alaska organization, considering he won seven PBA championships with the team as a player, including a rare Grand Slam under coach Tim Cone in 1996.
The former Ginebra coach added he desires to impart his vast basketball knowledge to young players through the cage  camp, hopeful he'd be able to raise up future Alaska Aces or PBA stars.
"I envision a future Alaska Aces or PBA star come from our Power Camp program," he said.
The job of Alaska camp director was left vacant when cage legend and former long-time Aces star Jojo Lastimosa decided to join the NLEX Road Warriors' coaching staff before the start of the season.