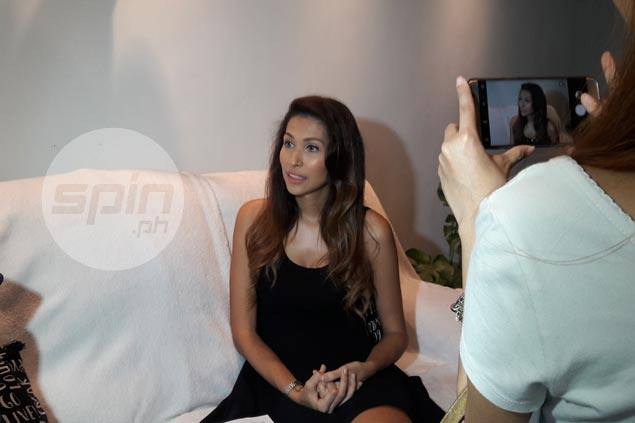 GWEN Ruais broke a three-month silence to insist she didn't have any role in starting out a verbal confrontation involving girlfriends and wives of San Miguel Beer and TnT Katropa players during the PBA Commissioner's Cup finals last June.
Ruais finally came out and opened up on Thursday, saying she didn't start the commotion that took place on the hallway of the Smart Araneta Coliseum just minutes after Game Five of the best-of-seven title series.
In light of the incident, the one-time beauty queen and girlfriend of San Miguel cager David Semerad disclosed she filed an unjust vexation and grave oral defamation case against persons involved during the incident, whom Ruais declined to name at the moment.
"This whole incident started with personal issues against me," said Ruais, the 2011 Miss World runner-up, explaining she only spoke about it now as she wanted to air her side in a proper forum first, which is through the case her party filed on court.
"I didn't start it. I had nothing to do with this. I was a victim. The other members of San Miguel who were beside me were victims. I hope the right verdict comes out of the court."
However, Ruais stressed she is willing to drop the case if she gets an apology from some of the people involved.
But the model-actress was adamant in pursuing legal action against the two persons who, she said, started the incident even if they will apologize. Ruais refused to name them.
"I'm sorry that they got involved but I'm just doing what is right. If they apologize, I'm willing to accept their apology," she said during an interview with reporters to air her side on the matter.
"As for the girl and the mother who actually started it, I have no message. What is right will happen, that is why I'm doing this," she added.
Ruais said the wife of TnT player Mo Tautuaa, Aida, already apologized to her personally. She also doesn't see any reason why the others got involved in the incident.
Ruais said she has also reached out to the TNT girlfriends and wives, through Tautuaa, for the resolution of the issue.
"Actually, I told Aida to reach out to them and she did, to tell them that I know that it's not their fault. They just got wrapped up into this situation by another person," said Ruais.
ADVERTISEMENT - CONTINUE READING BELOW
"They don't know me, I don't know them, so why would they do what they did?" she added.
Due to the incident, the PBA decided to ban wives and girlfriends of players from waiting at the dugout hallway of all playing venues. Ruais hopes the ban would also be lifted soon.
At the same time, Ruais hopes the league will also finish its investigation on the matter.
"I'm sorry if all the wives got banned in the PBA dugout for this. It's really sad to punish all the wives due to the action of a few," said Ruais.