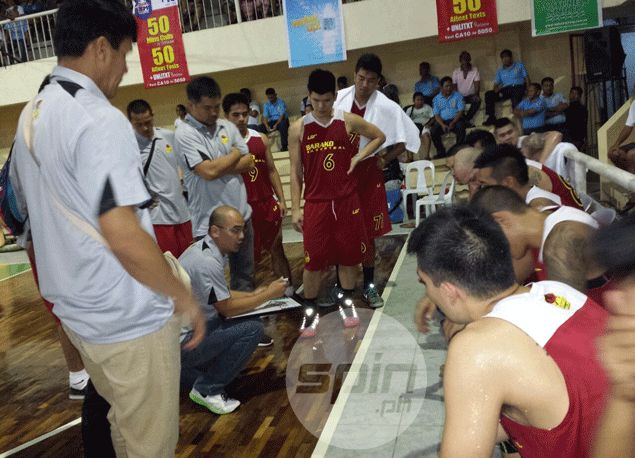 BARANGAY Ginebra remains on a slump. Good thing, this is just the preseason.
Barako Bull added to the Kings' woes after scoring a 79-75 win on Friday night at the Hinundayan gym in Hinundayan, a town four hours away from Tacloban, Leyte.
The loss came a day after the PBA's most popular ballclub was ambushed by Mindanao-based team Goldstar Davao, 90-87, in the opener of the Visayas pocket tournament featuring teams from Leyte and Cebu.
The Energy endured an early assault by the Kings, who led by as much as 10 points in the first quarter.
But once RR Garcia and JC Intal took over, Barako Bull began to dominate.
"Lumamang sila nung una. Pero nung nakapa na namin 'yung offense namin, tinuloy tuloy na namin," said Garcia.
"Lagi kasi sinasabi ni coach Siot (Tanquincen) na wala siyang ibang aasahan kung di kaming lahat. Wala daw star sa team namin kaya dapat tulong tulong kami," he added.
[See Davao's Goldstar team gives Ginebra a dose of its own medicine]
Gregory Slaughter paced the Kings with 21 points, but the Energy proved to be too much for Ginebra as sophomore Nico Salva and veterans Mick Pennisi and Willie Wilson later joined the scoring fray for Barako Bull.
Back-to-back three-pointers by Mac Baracael and Josh Urbiztondo trimmed the Energy's 10-point lead to just four in the final two minutes, but Garcia, Salva, and Pennisi were quick to repel the Ginebra rally
It was the second straight win for the Energy, while the Kings remain winless in two starts.
Ginebra coach Jeffrey Cariaso however, doesn't see his team being in a slump after two straight losses, saying he is happy to see how his players work hard to prepare for the coming 40th season of the league.
"Preparation is going well. Guys are working hard everyday and very excited about this All Fillipino," Cariaso told Spin.ph while having lunch with the team in Leyte.