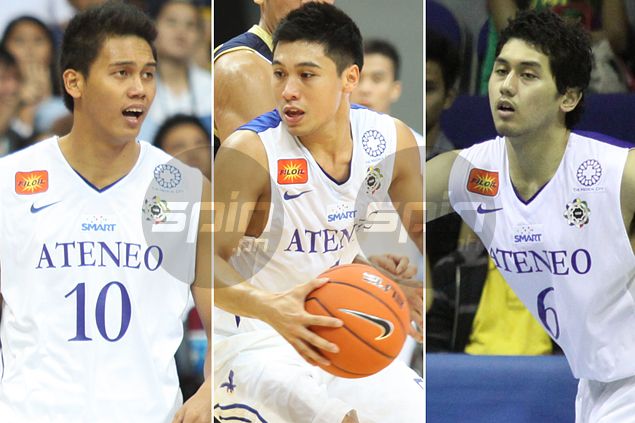 EXPANSION team Blackwater Sports is pinning its hopes on former Ateneo back-up players when it makes its inaugural campaign in the coming 40th season of the PBA.
The team picked Juami Tiongson and Frank Golla during the recent Annual Rookie Draft, reuniting them with former college teammates JP Erram and Bacon Austria who are already with the Elite as free agents.
Team owner Dioceldo Sy has challenged the Ateneo second-stringers to prove they belong in the pro league.  
"We were lucky to pick Juami Tiongson and Frank Golla in the last draft. Tapos we have JP Erram also and Bacon Austria, all coming from Ateneo," said Sy.
"Everybody knows that these players are from the five-peat champion team of Ateneo. And they all know na people look at them as mere 'back-ups' to the stars of the Blue Eagles."
"My challenge now to them is to prove that, indeed, they know how to win. Marami kasi nagsasabi na mga back-up lang sila ng mga starters ng Ateneo dati. So I am giving them the chance to prove themselves," he added.
Tiongson was the chief reliever of Emman Monfort while Golla played behind Gregory Slaughter and Justin Chua during the Blue Eagles' glory years.
Erram was also a bench player before the starting center of Ateneo after Slaughter turned pro last year.
Sy is optimistic his challenge will not fall on deaf ears having seen the potential of Tiongson when he brought the young dribbler to a pocket tournament in Penang, Malaysia.
"My coaching staff saw a gold mine in Juami in Malaysia. He was the team's most consistent player, while Bacon provided the stability there," said Sy as he took pride in Tiongson who averaged 16.2 points and 5.3 assists average during the six-nation cagefest.
"Syempre, di ako naniniwala na magpapaiwan naman sina Erram at Golla. I've heard so much good things about them," added the Ever Bilena Cosmetics president.
ADVERTISEMENT - CONTINUE READING BELOW
"The 'boys in blue' are known winners. So we expect them to exemplify that winning tradition with us in the PBA."