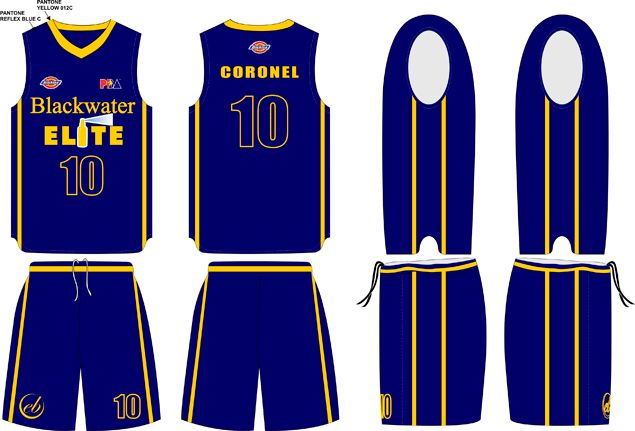 JUST like fellow expansion team KIA Motors, Blackwater will have its own 'pahiyang' for the coming PBA Commissioner's Cup.
From its predominantly black uniform during a forgettable maiden conference in the pro league, the Ever Bilena franchise will be going back to what it felt is its lucky royal blue, yellow, and white colorway for the mid-season conference kicking off on Tuesday.
"We are making the changes in our uniform color. Same design, it's just the color. We are going back to our blue, yellow, and white uniform, the same we used when we won a championship in the PBA D-League in 2012," bared team owner Dioceldo Sy.
Just like Blackwater, KIA Motors is also set to undergo some minor changes in the import-laden tournament as it switches monikers from Sorento to Carnival.
[See KIA switches monikers from Sorento to Carnival - seriously]
Sy admitted the Elite's black uniform was bad feng shui, judging from the way the team went without a single win during the season-opening Philippine Cup.
The Elite started their PBA campaign on a wrong foot after a stunning 66-80 loss to KIA in the opening game. Thet finished the tournament 0-11 (win-loss).
"I talked to my management and the coaching staff, and they too were amenable to my belief na hindi maganda ang black na uniform," Sy stressed.
Asked how the new colorway will fit into the team's name, Sy was unperturbed.
"It's okay kasi our Blackwater fragrances are packaged in different colors naman. May pula, asul, puti. The name Blackwater doesn't have to be presented in black," said Sy, who bared the company's men's cologne line was named after the Blackwater military forces of the US.
The Filipino-Chinese cosmetics tycoon also pointed out the team's blue-yellow-white uniform has already been utilized by Ever Bilena since the company's days in the defunct Philippine Basketball League where it won several championships carrying the Blue Detergent brand.
ADVERTISEMENT - CONTINUE READING BELOW
The outspoken former PBL chairman hopes to see a better campaign for his team in the second conference when it kicks off its bid against Barako Bull on January 28 at the Astrodome.
"I just hope it's going to be a better conference for us. We made a lot of changes in our training as well as preparations," said Sy.
Blackwater has been practicing since December 15 and sought the help of well-known strength and physical conditioning coach John Aquino, the same man who has been working on the training of ageless center Asi Taulava.
"We maintained the core of the team, we just added a couple of players. I hope the team is on the right track. With coach John Aquino helping us, we expect to perform better this Commissioner's Cup," said Sy.  
"We learned our lessons well last time," added the Blackwater team owner, who revealed acquiring the services of  Asean Basketball League star guard Jerrick Canada, free agent guard Raphi Reyes, Val Acuna, and former D-League forward Gio Ciriacruz.
"I hope we can have a crack at the quarterfinals, then we'll take it from there. The conditioning (of the players)  has truly helped our players improve," added Sy.
"I am a firm believer of early preparation. As they say, 'The early bird catches the worm.' I know it's an ambitious goal (quarterfinal target), but I know di masamang mangarap, coz it's our conservative goal so far," said Sy.
Aquino, meanwhile, happily reported the marked improvement in Blackwater's conditioning.
"You're going to see a totally different Blackwater team this conference. They have more strength, and stamina has also greatly improved. Last conference kasi nawawalan sila ng energy sa fourth quarter," said Aquino who has been with the team since last month.
The House of Pain gym owner has also added a plyometrics program to the Elite practices to help them improve on their muscle endurance.
ADVERTISEMENT - CONTINUE READING BELOW
Meanwhile, here is the official lineup submitted by Blackwater for the Commissioner's Cup.
Chris Charles - import    
Bryan Faundo
Chris Timberlake
Raphi Reyes
Alex Nuyles
JP Erram
Robby Celiz
Gio Ciriacruz
Gilbert Bulawan
Brian Heruela
Bacon Austria
Jason Ballesteros
Bambam Gamalinda
Eddie Laure
Val Acuna
Jerrick Canada