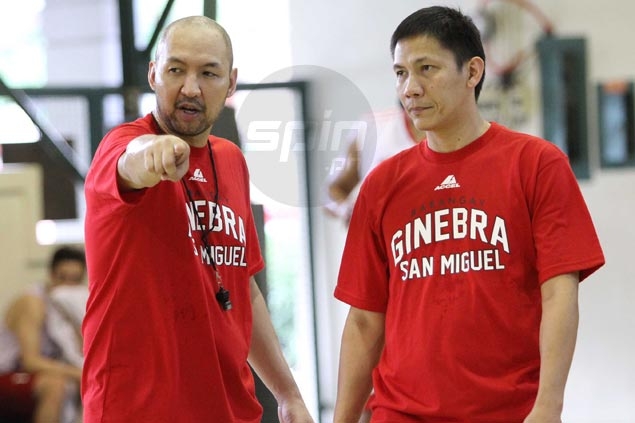 EARLY bird catches the worm.
Barangay Ginebra will do exactly that as the Kings return to practice on Monday, two months before the 40th season of the Philippine Basketball Association (PBA) comes off the wraps this October.
Coach Jeffrey Cariaso admitted he doesn't want to waste any time and will use the extra period to further familiarize the Kings to playing the triangle offense.
The soft-spoken mentor stressed the offensive system designed by Hall of Famer Tex Winter is complex and needs a lot of work before the players become more comfortable with the structure.
Cariaso took over as Ginebra coach just before the Governors Cup last season and hardly had time to instill his pet offensive offensive system.
Now he will have all the time he needs.
"The (main thought) on our return to practice (Monday) is to get back in grind. I'm truly excited with the long offseason," said Cariaso, who was accommodating enough to answer questions from Spin.ph even while inside a movie house with his son.
"I plan to use it to improve every aspect of what it takes to be a better team, both on and off the court," added former PBA star who also happens to be the owner of Titan sports house.
It's been six years since Ginebra last won a championship and Cariaso believes polishing the triangle is one big step towards attaining the team's goal of returning to the top.
A protégé of coach Tim Cone, Cariaso said he expects all Ginebra players to be present on the first day of practice at the team's new training camp at the Christ Commission Fellowship (CCF) gym in Ortigas.