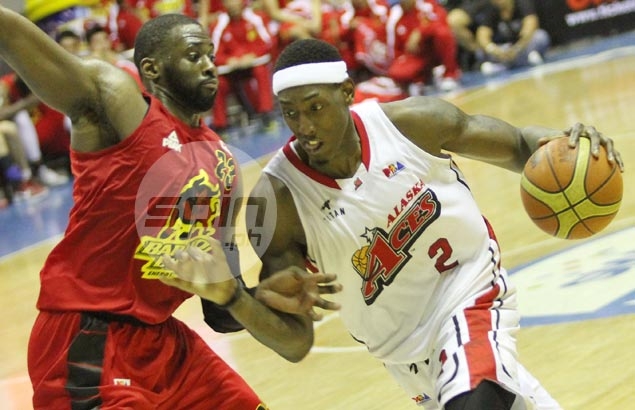 WHILE the PBA Philippine Cup Finals is the main focus, Alaska coach Alex Compton bared the team is hopeful it could bring back one-time Best Import Robert Dozier for the coming Commissioner's Cup.
Compton believes the 6-foot-8 Dozier already fits the Aces'system.
"He's (Dozier) such a good guy, smart and blends easily. I think he's a great choice for us with the way we play. He's great, he's a team guy," Compton told Spin.ph just before the press conference for the All-Filipino Cup finals on Monday at the Sambokojin Restaurant in Eastwood, Libis, Quezon City.
At the moment, the American coach said the Aces will have to wait for the former Memphis Tiger to get his clearance from Al Shabab, his team in Dubai, United Arab Emirates, where he is currently seeing action.
"You know how it is overseas. You have to get the clearance and hopefully, we can get him when he gets his release because the team (Al Shabab) has to send it (Dozier's clearance) out through Fiba, which then sends it to our Fiba (affiliate) here," explained the Alaska coach.
Compton admitted what the team did this season is far different compared to the time of predecessor Luigi Trillo, who basically runs the triangle offense, as the Aces made it to the best-of-seven finals after eliminating Rain or Shine in the semifinals, 4-2.
But the 40-year-old Compton is confident Dozier won't have any problem fitting into the Aces' new system that puts premium on pressure defense.
"I think with the way we play now compared to how we used to walk it up, we played slower before. But now, we're all over the place, whoever we get, he has to be in shape, though  Rob is always in shape, but it's just the way we play that's different," he said.
ADVERTISEMENT - CONTINUE READING BELOW
Dozier led the Aces to the Commissioner's Cup title two years ago during his first tour of duty in the league, marking the Alaska franchise's first championship in the post-Tim Cone era.
The hardworking Dozier returned last season, but the Aces lost to Purefoods in the quarterfinals, 2-1.
Dozier averaged 20.2 points, 16.3 rebounds, 2.7 blocks, and 2.3 assists in 34 career games in the league.