EVEN this early, Jeffrey Cariaso can see the time-tested triangle offense fitting Barangay Ginebra to a T.
The Kings returned to practice on Monday afternoon, less than two weeks after they were eliminated from the ongoing PBA Commissioner's Cup playoffs, with Cariaso officially introduced as the new coach.
And the former Tim Cone apprentice wasted no time breaking down the basics of the triangle, the offensive system invented by Tex Winter used with a lot of success by champion coaches like Cone and Phil Jackson.
"It's just the first day, but what's nice is when you look at the lineup — from the first person down, you have the personalities and the type of game that fits specific positions sa triangle," Cariaso told Spin.ph after practice at Green Meadows.
"They showed today, even though it was just the first day, why they're a team to deal with. Now it's really just bringing it together — slowly, but surely."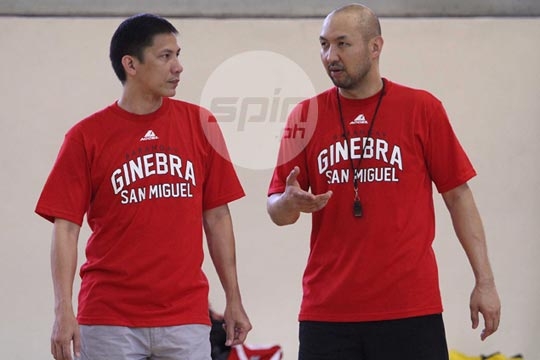 Ginebra now becomes the third team to lean on the triangle offense in the pro league after Cone's San Mig and his former team Alaska, where Cariaso was one of his former stars.
For now, Cariaso, who supervised training with fellow former San Mig assistant Olsen Racela, along with holdovers Ato Agustin, Freddie Abuda, and Jorge Gallent, is glad to start his first head-coaching job with no less than the league's most popular team.
"My opportunity came. I'm grabbing it and I'm just being myself, trying to teach and bring my personality a little bit and hopefully it will fit with how these guys play."
Only time will tell how fast the powerhouse squad led by Mark Caguioa, LA Tenorio, Greg Slaughter and Japeth Aguilar can adjust to the triangle.
But Cariaso knows he has to deliver so as not to disappoint the Kings' legion of fans. But the 10-time All-Star and former Rookie of the Year awardee knows pressure comes with the territory.
"Whoever takes the job, it's always going to be a challenge, so I understand that."