MARLOU Aquio's sheer 6-foot-9 frame was badly missed on this night.
Yet his absence was not enough to spoil an evening of fun and reminiscing as the former core of the Robert Jaworski-era Barangay Ginebra team held its reunion to celebrate the 20th-year anniversary of its 1997 PBA championship.
Jaworski, acknowledged as the father of the franchise that built a reputation as the only 'never-say-die' team in the pro league, led the celebration at the Chivz Lounge bar in San Juan, that also served as despedida party for Jaworski's longtime deputy Rino Salazar and wife Rose.
With the exception of Aquino and Macky De Joya, all the Kings were accounted for, from fan favorite Bal David to behemoth Edward Joseph Feihl.
Even loyal Ginebra supporters, singer Richard Merk and funnyman Jimmy Santos, were in the house to join the merriment that gathered members of the team for the first time in 19 years.
Jaworski, 70, admitted being touched by the camaraderie his team was able to maintain until this time.
"It's the caring and sharing that we put together many years back that's very apparent until this time," said Jaworski in his short message to the team.
"It's a pity that we missed some other guys, but this is just a quick invitation. So I'm gonna throw in and put together something at my home for everybody to be there," hinted the legendary basketball figure about a possible follow-up to the first reunion.
Continue reading below ↓
Recommended Videos
Chants of 'Ginebra! Ginebra! Ginebra!' and 'Jaworski! Jaworski! Jaworski!' reverberated inside the packed venue, while the popular ditty 'Pag Nananalo Ang Ginebra' playing in the background set the mood for the nostalgic gathering.
Aside from David and Feihl, also around were Vince Hizon, Wilmer Ong, Noli Locsin, Jayvee Gayoso, Benny Cheng, Wilmer Ong, Pido Jarencio, Dudut Jaworski, and Mike Orquillas. Assistant coach Philip Cesar and former mentor Allan Caidic joined the group along with longtime staff Leopoldo Trillana.
Present also were some of the players' wives, including Maryjane Ong and Maita Locsin, who were the ones responsible for arranging the get-together.
"I salute you guys," said Salazar when it was his turn to speak in front of the team. "It is indeed a supreme honor and privilege to be part of this group. Thank you so much. Thank you for coming, thank you for all your time."
[See Bal David salutes Ginebra coach who designed play that left Taulava in tears]
Carrying the banner of Gordon's Gin, the team won the 1997 Commissioner's Cup title in six games against Alaska, with Aquino emerging as Finals MVP.
It proved to be the last Ginebra championship under the Jaworski era.
"Yung mga nakikita ninyong Ginebra ngayon, generic lang 'yun," said Gayoso, who also spoke in front of the mini-stage along with Hizon, Jaworski Jr., Caidic, and Cheng.
"Ito ang tunay."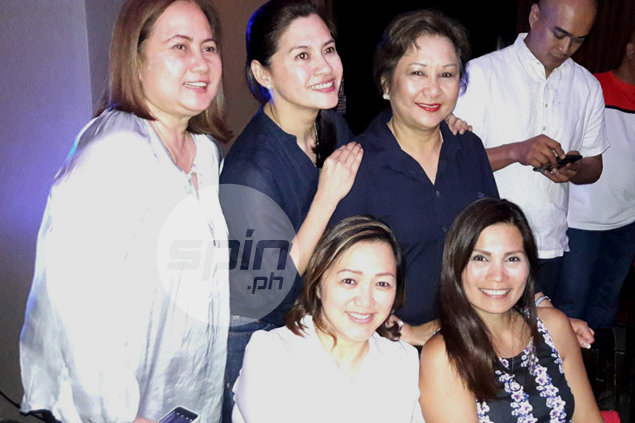 More than the battles they've waged together inside the court, Gayoso echoed what Jaworski said that the essence of 'never-say-die' is the camaraderie the group developed through the years, even now that all of them are retired.
"Never-say-die is not a team. It's not what you give on court. Maybe it helped, because never-say-die is our friendship which will always last," he stressed.