YOU don't see him on the bench with the rest of Alaska's coaches as he usually takes his place in the row just behind them alongside members of the team's medical and utility staff. But Paolo Layug is just as valuable as all of Alex Compton's deputies.
As the Aces' analytics coach and video coordinator, the 30-year-old has already done most of his work way before tipoff, waking up early during non-game-days to compile data and video from previous games and present it during practices to make his team better prepared for their next assignment.
The bespectacled coach is perenially engrossed with various numbers that most of us don't understand, but he somehow makes the Aces players buy into it with the help of a system that he has developed and tweaked over the past three years since joining Alaska.
In short, he's Alaska's stats geek.
"I think it's really helpful in terms of scouting," Layug said in a chat with SPIN.ph after a recent practice. "It gives you more information on both the opponents, as a team and for individual players."
"I feel like we have one of the most in-depth scouting reports," he added. "We have the data to back it up. It really shows the strengths and weaknesses of our opponents. Not only that, we use it for our own players for their player growth, to show what they can improve on. We have benchmarks we want to reach."
Continue reading below ↓
Recommended Videos
With the Aces eager to put their disappointing year behind, Compton needs all the help he can get – from Layug's scouting reports apart from the insights from his deputies.
"My job is really to find trends, find stuff that sticks out," Layug said. "Then I have to find the reasons why this is happening because of this."
"Like maybe in this game, why did we lose? Maybe our pick-and-roll defense was really bad, as compared to when we win – so we have data to support it and then we also show video, cause they go hand in hand talaga," he added.
Compton is a believer.
"I feel like I know more data-wise than any coach in the league – not because I'm the smartest guy, but because Paolo does the work – and it's a lot of work," said Compton. "And that allows us to look for trends, things, and I'm a big believer in analytics."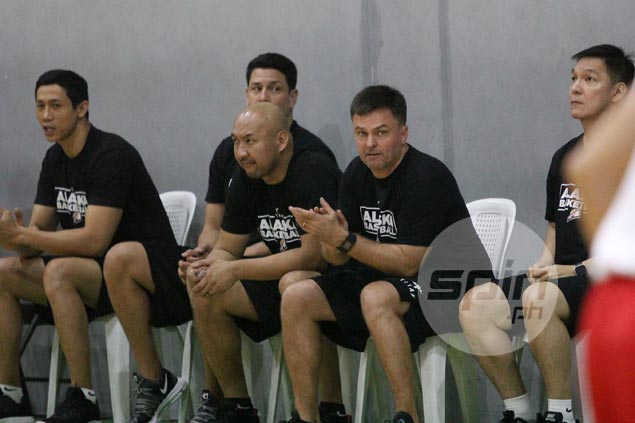 Moneyball
Layug related that one of the reasons why he started getting interested in basketball analytics was when he read an article about former NBA lynchpin Shane Battier being the best guy who could defend Kobe Bryant, who retired as the NBA's No. 3 all-time leading scorer.
"They had all these statistics in the article na parang (Kobe) shot like this on jumpshots, he shot like this on when he was contested, or when he went left. Basta there was a lot of data, and I found it really interesting," Layug recounted. "I was like, 'How come NBA, may ganyan, dito wala?' So naisip ko na parang pwede yun dito."
While analytics has been a trend in the NBA, it's in Major League Baseball where Layug can also relate to – thanks to Moneyball, the 2011 sports movie starring Brad Pitt and Jonah Hill, inspired by the story of the 2002 Oakland Athletics baseball team that went on a Cinderalla run with an unheralded squad – thanks to in-depth analytics.
"It's one of my favorite movies," Layug said. "In a way, it's an inspiration to me, kind of similar circumstances – Oakland A's, Alaska Aces, 'di ba? Small market team and a team that – let's just say follows the rules. We don't have the budget that other teams have, we never get high draft picks. We have to rely on player development, and being crafty, and finding other ways to win."
"So that's how I can relate to that movie, like trying to help a franchise that has traditionally done well but without the budget of others teams … parang David versus Goliath," he added.
But Layug stressed that baseball analytics is far more developed than in basketball, and the trend is slow to grow in local hoops, with some teams still reluctant to hire analytics guys in charge of getting and making them understand advanced statistics.
"For me, the only problem is that, a lot of people, mga old-school coaches, they're saying, 'Oh, those guys, they don't know anything about basketball. They're not basketball guys.'" Layug said. "That's partially true, because these guys are good at mathematics, but can they translate it to the coaches so that the coaches can understand and use it?
"Kasi it's one thing to know the thing, and then teach it," he added. "So that's what I've realized the past few years – it's very important to know the data, it's also very important to communicate it properly, kasi if you're not going to communicate it properly, then it's not going to have the intended effect."
Coaching dream
Layug's early coaching experience was limited to handling the midgets squads of Brent in Laguna while he was playing for the juniors squad of the international school under Ben Compton, Alex's brother.
"I was okay (as a player)," Layug, who played point guard, said with a chuckle. "In high school pa lang, gusto ko na maging coach. I coached the younger teams when I was in high school. I really had more fun coaching than playing. I was the captain, but we're a small school, so we're definitely not that good."
After graduating with a management economics and finance degree at Ateneo, Layug found work as a foreign exchange trader. But when he found his high-paying forex gig unfulfilling anymore, he decided to pursue his childhood dream.
"There's really a lot of trends, analysis (in forex), so the skills actually translated – it's just a different subject. Instead of studying the forex market, now I'm studying basketball," Layug said.
After interviewing for jobs with at least 15 coaches, Layug finally landed his first one at National University with coach Eric Altamirano, becoming probably the first analytics coach in the country.
"I was able to – in a way – manipulate the traditional stats in a way to show advanced stats, to give a clearer picture of how teams are really playing," said Layug.
Layug first made a mark by becoming part of the Bulldogs' Cinderella run in the 2014 UAAP season when the fourth-seeded squad toppled top seed Ateneo in the Final Four before outlasting Far Eastern University in three games in the finals for the Sampaloc-based school's first title in four decades.
The scouting on then Ateneo star Kiefer Ravena was something Layug was particularly proud of.
"I think the data helped because we were the number one defensive team that year, and we had really detailed scouting reports," Layug said.
"The (report) I gave about Kiefer (Ravena), about how to defend him. We knew like when he would go left, he was like twenty-six percent, and when he went right, was thirty-eight percent. When he was in the paint, he shot like thirty-eight percent. So if you kept him out and made him take mid-range jumpers, he was shooting twenty-two percent lang."
"The data helped us formulate our gameplan in the semifinals against Ateneo, and against FEU, one thing we realized is they had less drives and more post-ups," he added.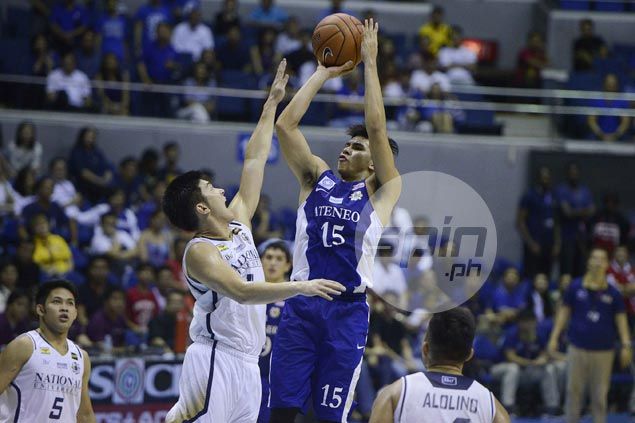 His scouting reports also contributed to the rise of Bulldogs guard Pao Javelona as the "Kiefer-stopper" after shackling Ravena in the semifinals.
"Your players need to believe in the data also. But as the coach, you need to communicate it to the players as well," Layug said.
Data that leads to Alaska title
Layug, who has been with Alaska since 2014, feels the Aces players have also bought into his analytics system that he now calls "Next Play" – owing to their four finals appearances in two seasons.
"I do think the players have bought in cause coach Alex is a very good communicator," Layug said. "You can tell that our team generally plays hard. And except for last year, we were (one of the top teams) in defense when we were making the finals."
Compton can attest to Layug's importance to the Aces.
"He's a really bright kid," the American mentor said. "He's really passionate. He's helped us out a lot. We brought him in when Luigi (Trillo) was coaching, so I said, 'Hey, there's this kid who does this stuff that's going to give us an edge. And he's proven it. He's earned everything."
Asked if he can divulge some specific data, Layug politely declined.
"One of the reasons why ayaw ko magpa-interview dati is because we really want to keep the data very secret," Layug said. "I can't really show you what we do, because other teams might copy. It's already hard for us to win, man. I really can't give secrets out."
Compton shared Layug's sentiments.
"I can talk about the value of it, but I don't want to talk about what we do, because he has developed his own system," Compton said.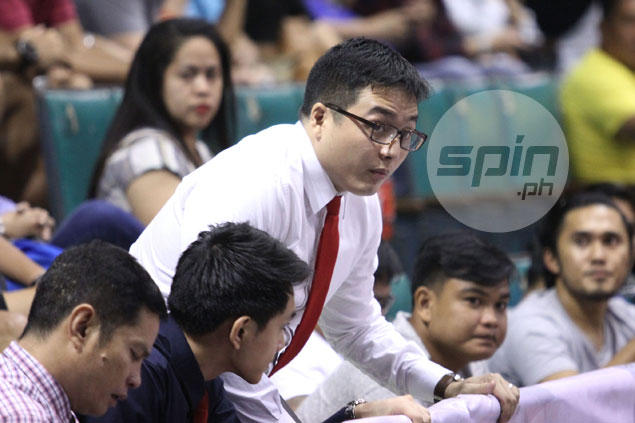 Despite the Aces coming off an underwhelming 2017 where they missed the playoffs in the two import-spiced conferences and started the 43rd season with two losses, Compton is keeping his faith in Layug and importance of the numbers he compiles.
Compton said in the end, a coach's instincts and the players' cut will spell the difference between victory and defeat.
"You also need the eye test, that's why you coach," the Aces coach said. "And then there's the gut. The analytics might say something, but they don't know that that guy ate something bad coming into this game, and he's just throwing up in the locker room – so there goes your analytics. You have to do something different.
"That's where the eye test matters – as a coach, you just know that, today, this kid's off… there's foul trouble, a team runs a different scheme, you have to (balance it)… it's both – head and heart," Compton said. "But we want to do all the work for the head, so it's prepared. And then sometimes you got to let your heart and your eyes overrule."
Layug noted that in their franchise-worst 14-game losing streak bridging the last two conferences, the Aces led by double digits in eight of those matches while the six others were one-possession games.
"We were right there. We were competing. We just didn't win," Layug insisted.
Other teams are slowly realizing the significance of analytics, with back-to-back Governors' Cup champion Ginebra, TNT Katropa, and Phoenix also hiring their own analytics guys, Layug said.
But Layug stressed the analytics complied for one team varies with another.
"The data only becomes useful if it's relevant to your system," Layug said. "So for us, we're a pressing team, and since we're a pressing team, we have all the data when we press, how we press, how effective are we when we do technique right – if we're really 'jamming and dogging.' Are we doing the on-ball pressure right? Are we guarding the inbounder? If we do, this is the defensive field-goal percentage. When we don't, it's this.
"So we can show the players like when you do it correctly, our defense is a lot better. When you don't, it's not as good," added Layug, who has found a job as an assistant coach at College of St. Benilde under TY Tang, and as CSB's Team B head coach.
Despite Alaska's struggles, Layug will continue to find ways – or relevant data, for that matter – to help the Aces relive lost glory.
"Like being an inventor, you're going to be spending so much time inventing a lot of stuff, and ninety-nine out of one hundred times, it's either going to be useless or somebody already knows it," Layug said. "But there's always going to be that one time na we'll find out something new. That's what I always tell myself, kasi we've come so close to winning a championship."
Still, he also knows that all those advanced statistics can only do so much.
"At the end of the day, the players have to make plays," he added. "The data will help prepare them better, but if the coaches and the players aren't putting in the work, it's going to be useless. It's just a piece of the puzzle. That's really what it is.
"But like I said, it comes down to everybody doing their job … But I really believe we're going to win a championship under coach Alex. I came here and stayed here in Alaska because I want to win championships."