ONE is regarded as perhaps the best player to ever play in the PBA; the other is on track to get there.
Comparisons are therefore inevitable between Mon Fernandez and June Mar Fajardo, who in different generations have distinguished themselves as two of the most dominant big men to play in the pro league.
Fernandez, of course, has set the bar by which all other PBA big men, Fajardo included, are measured, winning four MVP awards (matched only by Alvin Patrimonio) and 19 championships in a legendary career.
By the time he retired in 1994, the former Toyota and San Miguel star had set most of the all-time records that matter in the league, from career points made at 18,996 to total rebounds (8,652).
No wonder then that when he was asked who would dominate in a game if he and Fajardo had played in the same generation, 'El Presidente' didn't mince any words with his answer.
"If we were pitted against each other, if we played in the same time, I'd like to believe so (that I can dominate June Mar)," Fernandez, now 62, said during a recent visit to the PBA Cafe at the Metrowalk in Ortigas.
At 6-4, Fernandez would be giving up six inches to Fajardo, who, incidentally, he took under his wings during the early stages of the San Miguel big man's career in college with University of Cebu.
There was no doubt, however, that Fernandez was the more versatile player - a triple-double machine late in his career who is comfortable facing the basket as he was at the low post; totally at ease bringing the ball downcourt as he was soaring for those elegant jumpers.
So versatile is Fernandez that he ended his career as second only to teammate turned nemesis Robert Jaworki in all-time assists list (5,220) and runner-up to Johnny Abarrientos in the steals department (1,302).
While playing for Beer Hausen, Fernandez fell just assists shy of averaging in triple double for one season in 1984.
The good news is, Fajardo, at 26, has all the time in the world to catch up. He has already won two MVP awards and three championships in his first four seasons as a pro and is bound to win more before his career is through.
But to do so, Fernandez said his former student must strive to continue to improve while addressing the 'weaknesses' in his game.
"I see him, I see him grow, I see him improve and I'd like to see him develop into a multi-dimensional player and there are several aspects of the game that he needs to develop, may aspects na weak pa siya ng kaunti eh," Fernandez said.
"June Mar is a special player. In time, he will be at the echelon of the PBA's greatest players, sana lang he never gets tired of learning. He has the talent and the body," said Fernandez.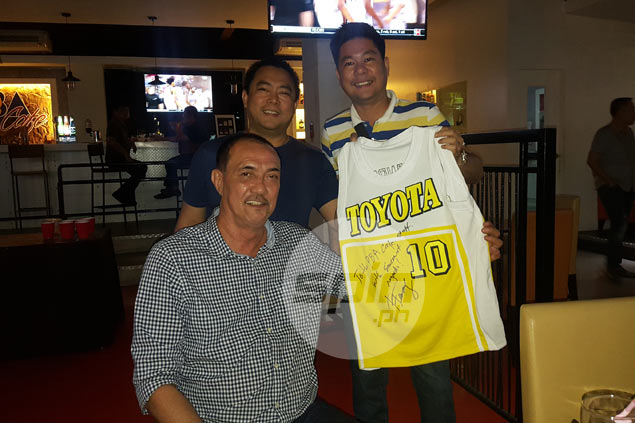 Speed is one aspect Fajardo needs to develop, 'Don Ramon' said. His interior defense is another. With his size, Fajardo should be averaging between 'six to 10 shot blocks a game,' Fernandez said.
Same goes for his rebounding, which Fernandez said is still left wanting. And Fajardo must learn to pass if he is to become an unstoppable force in the low blocks, he added.
"He needs to develop his interior defense, assists and his defensive rebounds, being as tall as him and with that size and heft, I believe he should easily block 6 to 10 shots a game, if he can master the inside defense portion," he said.
Had they stood face to face on the court, Fernandez said Fajardo would have a hard time coping with his quickness that is rare for a man his size, as well as his countless moves in and around the paint.
[See Fernandez says Fajardo bound to be the greatest PBA player ever]
But the true yardstick by which Fajardo will be measured, Fernandez said, is championships.
"I have never gone for more than three years without winning a title, because I want my teammates to improve and experience how it was to become a champion player," said Fernandez.
Fernandez had 19 PBA titles and a Fiba Asia championship (1973) to his name; Fajardo needs to pick up the pace. 
Watch the interview with Mon Fernandez: