AFTER Blackwater traded its first-round pick in the coming draft to Talk 'N Text, not a few PBA insiders feel the expansion team had, in essence, given up a chance to grab a franchise player in the mold of Moala Tautuaa.
Coaches and scouts who had seen the nimble Fil-Tongan play both in the Asean Basketball League (ABL) and the PBA D-League believe Tautuaa is a 'game changer' who can alter the course of an expansion team like the Elite - someone good enough to build a team around.
Too bad Blackwater may never get a shot at him.
The Elite finished at the bottom of the standings in both the Philippine Cup and Commissioner's Cup, giving them the best shot at the No. 1 pick overall under the re-formatted PBA rookie draft.
[To know more about the new draft format, click HERE]
However, the Dioceldo Sy-owned team had given up that shot by trading first-round picks with Talk 'N Text in a three-team transaction that paved the way for rookie Kevin Alas' move to the Tropang Texters, KG Canaleta's shift to NLEX and Larry Rodriguez's move to Blackwater.
If the draft is held today, Talk 'N Text's pick is at No. 11 and Blackwater's original selection is at No. 1.
Continue reading below ↓
Recommended Videos
Boycie Zamar, coach of Tautuaa with Cebuana Lhuillier in the PBA D-League and an assistant coach for San Miguel Beer in the PBA, said he has been impressed with Tautuaa since his days in the ABL, so much so that he had mistaken him for an import.
"At first, I thought he was an import when he was with Malaysia under coach Ariel Vanguardia," said Zamar, "until we found out that his mother is Filipino."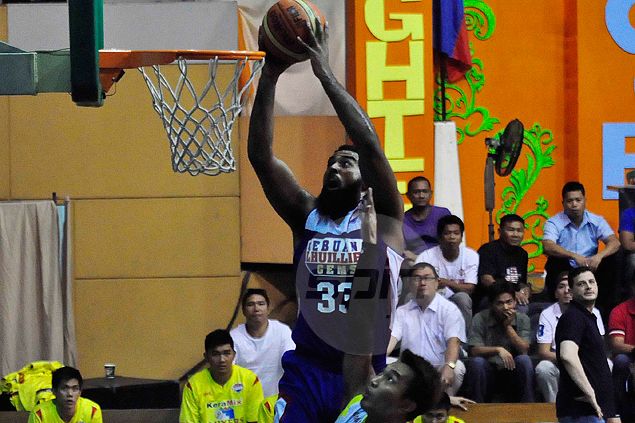 In the ongoing Foundation Cup, Tautuaa has been everything Zamar had hoped he would be, averaging 22.5 points and 10.5 rebounds through four games with the Gems who are unbeaten since signing the Fil-Tongan to a one-conference contract.
Beaujing Acot, one of the analysts for Asian Television Content's coverage of the PBA D-League on IBC-13, said the sky is the limit for Tautuaa since he is a big man with a unique skill set capable of playing multiple positions.
"Game changer 'siya eh," said Acot. "Capable siya (to become a franchise player) in the sense na malaki siya at multiple positions ang kayang laruin.
"I see him as a big asset. Just imagine, a 6-7 guy who can shoot, magaling pumoste, at dribble coast to coast," he added.
Tautuaa may pale in comparison to the top two picks over the last two years - namely, June Mar Fajardo of San Miguel Beer and Greg Slaughter of Ginebra - but at the very least, the big man is good enough to make a marginal team better by leaps and bounds.
That's what Blackwater essentially threw away.
"Losing a number one pick is like losing a face of the team," said Acot.
Still, other pundits believe Tautuaa will still have to land in a PBA team that will be willing to allow him to grow so he can reach his enormous potential.
"With his size, athletic ability, and the skill set that he has, there's no doubt na 'yung bata will make it big in the PBA," said Hapee assistant coach Carmelo Navarro. "Just a matter of landing in a team which will be able to make him reach his full potential."
[See Is he the real deal? Fil-Tongan Tautuaa stirs buzz among PBA teams]
Even for a San Miguel team with a loaded frontline led by Fajardo, Zamar said taking Tautuaa is still too good to pass up.
"There are a lot of guards playing in the amateur leagues so if you have a chance to get a big man, you have to grab it. Definitely he has the talent. But of course, pagdating sa PBA, it will be different. It all boils down to attitude when you reach the PBA," said Zamar.
Getting a rookie like Tautuaa also doesn't guarantee winning, Acot warned.
"Getting the number one pick doesn't really guarantee winning," Acot said. "'Yung number one player, magsha-shine 'yan depende pa rin sa coach. Kung ang goal ng coach is sa kanya iikot ang mundo niya, mame-meet 'yung objective. But if he'll just be one of the players, hindi siguro."