GLOBALPORT team owner Mikee Romero has declared that he has no plan to trade the team's 2014 first-round pick which, contrary to popular opinion, still belongs to the Batang Pier and not to Ginebra.
Romero himself confirmed that GlobalPort still holds the rights to the team's first-round pick in the next PBA rookie draft, pointing out that the Batang Pier merely returned Ginebra's own first-round pick in a separate November transaction.
PBA records will bear out Romero's claim, stating clearly that Ginebra re-acquired its 2014 first-round pick in a November 3 trade with GlobalPort in exchange for the Gin Kings' 2013 third-round pick (which turned out to be LA Revilla) and second-round picks in 2016 and 2017.
"Hindi. Ibang pick yun binigay namin sa Ginebra. Hindi 'yung amin," Romero explained to Spin.ph. "'Yung sarili nilang pick na hawak namin dati ang ibinalik namin sa kanila."
GlobalPort's pick, of course, is a lot more valuable than Ginebra's first-round draft right considering the season the Batang Pier have had.
The Batang Pier, in fact, will likely end up in a lottery with Rain or Shine - which in turn owns the rights to Meralco's 2014 first-round pick - to determine which team will pick first in the August draft.
With that clear, Romero said he has no plan to trade the pick which he hopes to use to grab a marquee name in a draft pool that could include Stanley Pringle, Bobby Ray Parks, Jr, Chris Banchero, Kevin Louie Alas, Garvo Lanete, Matt Ganuelas, and Jake Pascual and Ronald Pascual, among others.
"No, never. Hindi namin ite-trade 'yun. We have focused our attention on that at dyan din namin malalaman next movement ng team namin, depende yan sa makukuha namin na talent," insisted Romero.
Romero made some surprise trade deals ahead of last year's draft that landed GlobalPort a pair of first-round picks which he used to grab UAAP stars Terrence Romeo and RR Garcia.
Now the flamboyant owner said he is setting his sights on either Pringle or Parks or whoever is available when they take their turn in the drafting.
"'Yun dalawa na 'yun (Parks and Pringle) syempre ang gusto namin. Alin man sa kanila. If they will not join the draft, we'll look for the best available talent. Andami naman niyan," Romero said.
Here's the official record of the Ginebra-GlobalPort transaction from November 2013.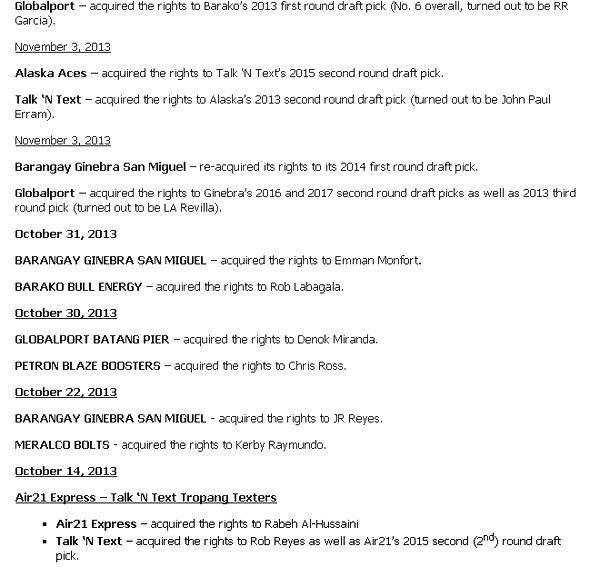 Meanwhile, here is a quick look at the owners of the picks in the first two rounds of the 2014 PBA draft, which will take place on August 24 at the Robinson's Place in Ermita, Manila.
The league will determine the final positions based on the team's performances at the end of the season.
FIRST ROUND
1.       GlobalPort
2.       Rain Or Shine (from Meralco)
3.       Air 21
4.       Barako Bull
5.       Alaska
6.       Ginebra
7.       San Mig (from Barako from San Miguel)
8.       Barako Bull (From Talk N Text)
9.       Rain Or Shine
10.   Barako (from San Mig)
11.   Expansion team (based on lottery)
12.   Expansion team (based on  lottery)
SECOND ROUND: (Exact order yet to be determined) 
1.       Alaska
2.       Barako (from Ginebra)
3.       Rain Or Shine (from GlobalPort)
4.       Barako Bull
5.       Alaska (From Air 21)
6.       Petron (from Barako from San Mig)
7.       Alaska (from Meralco from San Miguel)
8.       Alaska (from Meralco)
9.       Talk N Text
10.      Rain Or Shine