NEW import KJ McDaniels rallied back Meralco for a morale-boosting 92-89 win over leader Bay Area Dragons to end its losing streak in the PBA Commissioner's Cup Friday.
Meralco vs Bay Area recap
The returning import finished with 31 points and anchored the Bolts' comeback down the stretch at the Smart Araneta Coliseum.
Bong Quinto and Raymond Almazan also converted clutch baskets inside the final two minutes as the Bolts arrested a three-game losing streak for a 2-5 record.
"With KJ coming in, we thought we had like a breath of fresh air," said Meralco coach Norman Black of McDaniels, who replaced Johnny O' Bryant.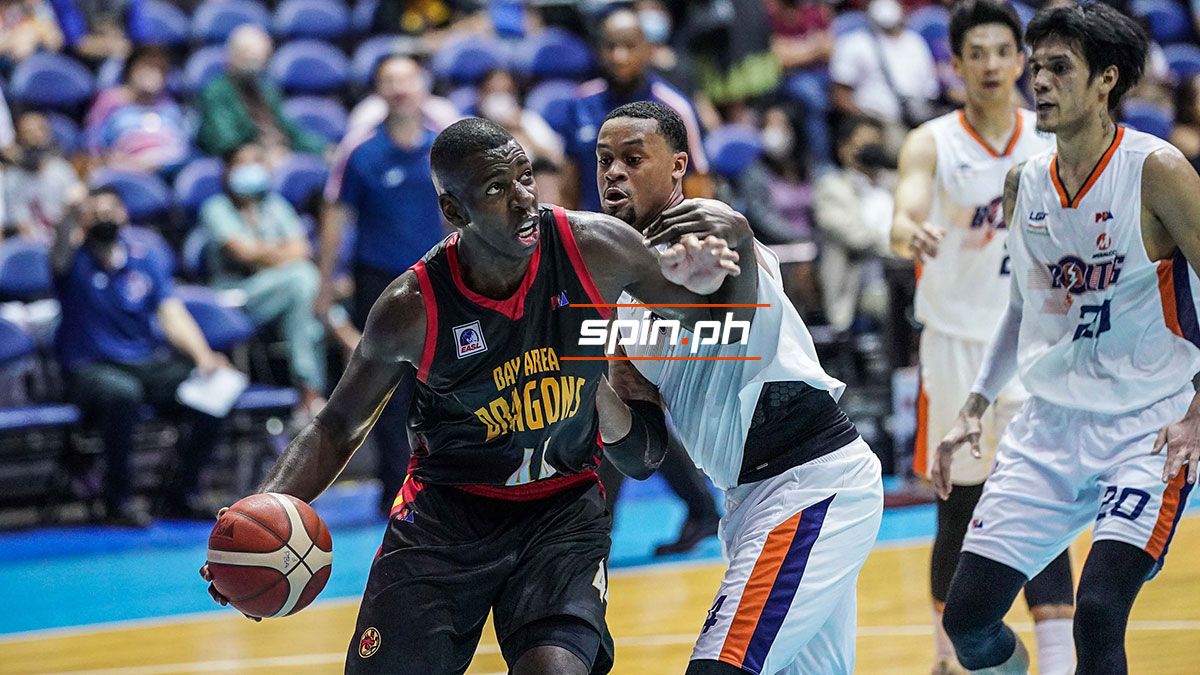 ADVERTISEMENT - CONTINUE READING BELOW ↓
The win also spoiled a monster 50-point performance by import Andrew Nicholson for the Dragons, who nonetheless kept the solo lead with a 6-2 slate.
Nicholson shot 53 percent from the field including 5-of-10 from beyond the arc, but committed six turnovers. He became the first player to score 50 points after San Miguel import Shabazz Muhammad had 56 in the Governors Cup against Meralco.
It was Nicholson who instigated a 10-2 run by the Dragons to take an 88-81 lead with 4:40 left after trailing by as many as 13 points earlier.
But McDaniels, in his third tour of duty in the league, scored seven straight points for Meralco, which threatened at 89-88 entering the final two minutes.
After a Bay Area turnover, Quinto scored on a fadeaway followed up by an Almazan basket off an offensive rebound to give the Bolts a 92-89 lead.
"It's a good win for us. Now let's see if we can string some together and try to take that last bus to the playoffs," said Black.
ADVERTISEMENT - CONTINUE READING BELOW ↓
McDaniels added eight rebounds, but shot 11-of-33 in his first game back in the league since donning the NLEX jersey in the last Governors Cup.
Almazan finished with 14 points and 16 rebounds, while Quinto and Chris Banchero with 12 each for the Bolts.
Kobey Lam was the only other Bay Area player to finish in double figures with 23 points.
The scores
Meralco (92) -- McDaniels 31, Almazan 14, Maliksi 13, Banchero 12, Quinto 12, Caram 5, Pasaol 4, Black 1, Jose 0, Pascual 0.
Bay Area (89) -- Nicholson 50, Lam 23, Zhu 5, Ju 5, Zheng 4, Yang 2, Blankley 0, Liang 0, Song 0, Reid 0.
Quarterscores: 20-17; 43-41; 67-67; 92-89.
PBA Updates