MATTHEW Wright hopes the PBA will be more stringent in dealing with the physical plays being dished out by Globalport import Malcolm White.
The Phoenix wingman experienced being at the receiving end of White's antics after being hit on the head midway through the second quarter of their Commissioner's Cup match on Wednesday at the Smart Araneta Coliseum that failed to catch the attention of game officials.
Instead, it was Wright who got called for a technical foul shortly after retaliating against the hulking Globalport import on the other end with 5:46 to go in the period and the Fuel Masters holding a 56-36 lead.
The sophomore forward admitted losing his cool and called on the league to intently watch how Wright plays.
"I can't explain how mad I am," said Wright shortly after the Fuel Masters cruised to a 135-108 win. "The league has got to do something. That's horrible, that's awful. You just can't swing at somebody's head like that."
ADVERTISEMENT - CONTINUE READING BELOW ↓
Wright said bruiser White got away with hits on other players in previous games.
"Malcolm has done that. He's done that in this league to Chris Tiu. I've seen him knock his tooth out. I've seen him hit Renaldo Balkman in the head."
Phoenix coach Louie Alas later waded in on social media, tweeting, 'He's dirty.'
Wright was taken out by Alas following the incident to cool him off and didn't return until the third quarter. He finished with 24 points on 9-of-13 shooting from the field, including 6-of-8 from three-point range.
The win – the team's fourth in 10 outings – was enough to bring back the smile on Wright's face.
"We're just hoping we can continue with this momentum. And it feels good to get this win and not to lose the lead this time," he said.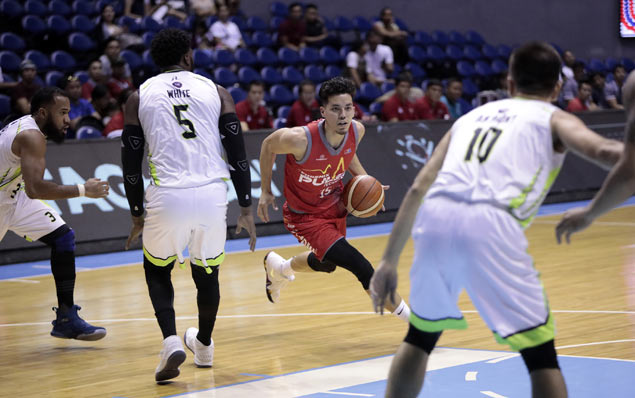 The Fuel Masters will face the Alaska Aces in their final assignment in the eliminations on July 6 and hope to win it for a shot at making the quarterfinals.
"We'll have a couple of weeks off, so we'll have time to regroup and come back focused," said Wright.