GOOD thing it was just Jewel Ponferrada.
Imagine what would have been if it was the dreaded Extra Rice Inc. duo of Beau Belga and JR Quinahan with whom Mahindra playing-coach Manny Pacquiao got entangled with underneath the basket during one scary sequence in the third quarter of the Enforcer's PBA Governors Cup game against Rain or Shine Friday night.
The 37-year-old Pacquiao was the lone Mahindra player left to stop a rampaging Ponferrada on a fastbreak when Enforcer import James White came out of nowhere and blocked the Rain or Shine big man's layup.
The block was ruled as clean but a trailing White ended up bumping Ponferrada, who, by the force of the collision and his own momentum, ended up falling onto the 5-6 Pacquiao underneath the basket.
A muscled 6-6, 210-lb big man crashing into you is one scary situation - and it is more so for Pacquiao, who recently unretired as a boxer and is set to climb the ring again on November 5 to fight reigning World Boxing Organization (WBO) welterweight champion Jessie Vargas.
That moment when Pacquiao was being pinned by Ponferrada under the basket, you can almost hear the eight-division world champion's promoter, Bob Arum, gasping in horror from thousands of miles away.
Continue reading below ↓
Recommended Videos
Pacquiao, we're sure, has faced far scarier incidents inside the ring. But getting injured in a basketball game months before a multi-million dollar fight would've been unacceptable for Arum and his fans.
Fortunately, Pacquiao emerged from the collision unscathed - and with a slight smile on his face.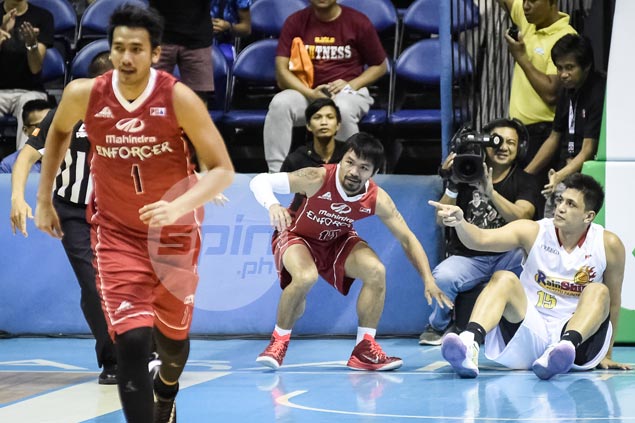 Fortunately, too, it wasn't a Belga or a Quinahan involved in the collision.
"Naku buti na lang hindi sila Belga yun," fans watching at the Smart Araneta Coliseum ringside gasped upon seeing the boxing legend go down with Ponferrada.
Pacquiao hurriedly left the Big Dome shortly after the game and didn't grant interviews to the waiting media men as he usually did in the past. But we're pretty sure he'd hear from Arum or adviser Michael Koncz once they see photos or videos of the incident.
The fear is real. He may not be as lucky the next time.