THERE is nothing conventional about this Rain or Shine team that had just rattled the existing order in the PBA by winning the Governors Cup when no one but its coach expected it to. Then again, you can expect anything but when it's Yeng Guiao who put it together.
Guiao, after all, is anything but a conventional guy.
Rain or Shine's firebrand coach spews venom on the sidelines but speaks in the hushed tone of an altar boy in the middle of a morning mass when off the court. He is a veteran politician but is almost too shy to sound like one. He owns race horses and loves horseracing, but not the betting side of it.
On the court, his system leaves opposing coaches befuddled while his substitution pattern, or the lack of it, drives his team owners crazy. He's probably the only coach in all of Philippine basketball who can start the team masseur and not surprise anybody.
The same nonconformity applies to his choice of players. Guiao like any other coach is fascinated by height, brawn and athleticism and is drawn to players with high basketball IQ, but he disregards everything if the guy doesn't have a big heart to match.
"I also look at the stats, read scouting reports and rely on referrals from friends and agents," said Guiao. "But after that, I trust my instincts."
His instincts and his unique eye for talent had rarely failed him, although it has been six years that these had rewarded him with a championship. Then again, it has been that long, too, since Guiao had been given the complete freedom to pick the players that he wanted.
That changed when he teamed up with Rain or Shine's unassuming owners Terry Que and Raymund Yu, who gave him the liberty to chop and change and even drop marquee players like Solomon Mercado and Jay-R Reyes to build a team according to his exact specifications.
The result, you guessed right, was not your typical pro league team.
Yeng's band of misfits and outcasts had two rotund centers who appear to spend more time lining up on the buffet table than in the weights room, an import with a technically flawed jumper, and a lone holdover star who not a few thought wouldn't last a day with Guiao because of his reputation as a 'soft player.'
But this team also had the courage and gung-ho attitude of a marine battalion thrown into the first line of battle. More importantly, it knew how to win.
Let's now look back and dissect piece by piece the mismatching parts of this unlikeliest of champions that produced a title in the most improbable manner.
1) Jamelle Cornley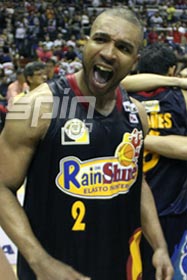 Yeng once told the story of how his instincts readily told him that Tony Harris would be a super import the moment he saw the flamboyant American walk out of the plane with the same gait and swagger of a champion thoroughbred being led out of the barn for a morning run.
Well, Cornley was the exact opposite.
The first time he saw the import play, Guiao wasn't sure if he was the right man for the job. Cornley's offensive arsenal was limited and his jumper wasn't exactly basketball's version of Jim Furyk's golf swing, but somewhere close.
It wasn't a case of love at first sight, but what Cornley brought to the table soon endeared him to his coach. He has an excellent post game – something you rarely see from an American import below 6-5 – and his work rate was second to none.
"He was an undersized post player back in the States, but around here he's just the right size. His post game was also most welcome since our big men – Beau Belga and JR Quinahan – are not really post players," said Guiao.
Also, a super import like Harris came with extra baggages. "With Cornley, wala akong naging problema sa attitude n'ya," Guiao said.
In the end, Guiao said he would rank Cornley in the Top Four among the imports who had played for him.
That may not sound much, but coming from a coach who had won with the likes of Ronnie Thompkins, former Duke star Tony Lang, former Chicago Bull Scott Burrell, Kelvin Upshaw and Harris, Cornley should take that as quite a compliment.
2) Beau Belga and JR Quinahan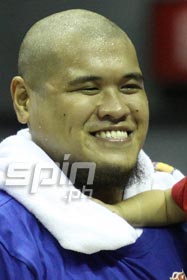 From all the absurd monikers TV commentators both past and present throw around, the one bestowed Belga and Quinahan was a rare gem. 'Extra Rice Incorporated' fit Rain or Shine's two big-bellied big men as perfectly as a mawashi loincloth belt fits a sumo wrestler.
But if there is anything bigger than the two's appetite, it should be their fighting heart. Belga and Quinahan never shied away from contact, never saw a fight they didn't like and they can take a lick as much as they can dish off. That made them quite an intimidating presence inside the paint.
Guiao admitted the two weren't his ideal choices to man the middle for his team.
"But in this league, excellent big men are precious commodities. You can't expect a team with good big men to part with them. In the case of Beau and JR, they are not only capable but they are also available for us," he said.
"Of course, you can't expect Quinahan to sprint down the floor to stop a fastbreak, or to always stay in front of his man, but they compensate for that with a lot of other good things they do for the team."
3) Jeff Chan and Jireh Ibanes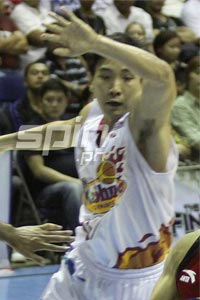 Guiao and Chan seemed destined to be together. The coach drafted the little-known gunner from Bacolod for Red Bull a couple of years ago, bid Chan goodbye when he moved to Air21 before his transfer to Rain or Shine a couple of years down the road paved the way for a reunion.
There has never been any doubt that Chan can shoot the ball, in the same way nobody had doubted Ibanes' defensive prowess. But given the minutes and the chance to shine by Guiao, the two turned from one-dimensional players into well-rounded wingmen who can hurt opponents in more ways than one.
Guiao couldn't be any happier for Ibanes, the only remaining holdover from the original Welcoat squad that debuted in the pro league six years ago.
"It wasn't like Jireh developed his offensive game by accident," the coach said. "He worked hard on it in practice, worked on his outside shot every single day."
All the hard work had paid off.
The jump-shooting Chan had a Finals MVP and Most Improved Player award at the end of the season, to go with a spot in the national pool. For Ibanes, it's a well-deserved Defensive Player of the Year nomination and a newfound reputation as one of the league's finest three-point gunners.
4) Paul Lee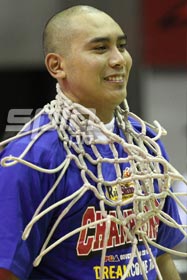 Selecting Lee at No. 2 overall in the rookie draft looked like a no-brainer now, but Guiao admitted it wasn't exactly an easy choice to make for them a year ago. Not when Smart Gilas standouts Marco Lassiter and Chris Lutz were still available in the pool.
"In fact, had Powerade not gotten Jayvee Casio at number one overall, the choice would have been difficult for us but in the end, we would've still gone for Paul," he said.
And what was it that swayed things in Lee's favor?
"This young man is fearless," Guiao said.
Guiao said he had long been fascinated with the former University of the East star, who owns a sweet stroke from beyond the three-point arc, ball-handling skills that allowed Guiao to turn him into a big point guard to complement TY Tang, and one of the best crossover moves seen in the pro league since Willie Miller.
But more than that, what attracted Guiao to Lee was the maturity and swagger rarely seen from a player his age.
"Paul is not intimidated by nobody," Guiao said. "Watch him play. He can take on anybody, even an import, and you won't sense even a tinge of fear in him."
In short, exactly the Guiao kind of player.
5) Gabe Norwood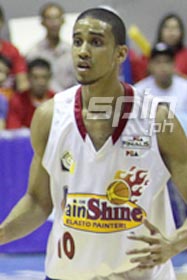 Guiao was the least bit surprised when he started getting a lot of calls inquiring about Norwood from rival teams the moment he took over the Rain or Shine reins. The Fil-American star, after all, looked like a man of the cloth thrown into a group of bandits in Guiao's rejigged lineup.
Yeng, however, was more than willing to give Norwood the benefit of the doubt and look beyond the 'soft player' reputation, if only for the rare combination of size, length and skills the former US NCAA standout possessed.
"Gabe is I think the only player in this league who has the skills to play all five positions," he said. "With that talent, it also means he's the only player who can guard all five players on the floor."
Guiao was also convinced the 'soft player' rap came not from the player's lack of heart but from the absence of an ego. "Sobrang bait. Wala s'ya ni katiting na ego. Sometimes I had to remind him that it's okay to be physical out there," he said.
On the offensive end, Guiao had two simple rules for his gun-shy player. "With his skills, I'd rather see him driving to the basket. And if he is to shoot from the outside, I want him to commit to every shot," Yeng said.
After what Norwood showed in Game Seven, Guiao believes nobody would dare question the guy's heart again.