BARANGAY Ginebra fans have spoken. They want no less than Eat Bulaga's emerging star Yaya Dub to be the team's muse for the opening of the PBA's 41st season this October.
Social media accounts of Ginebra fans have been flooded by requests to make Yaya Dub (Maine Mendoza in real life) the Kings' muse ever since her onscreen love team with Alden Richards in the 'Kalyeserye' of the country's longest-running noontime show rose to phenomenal heights.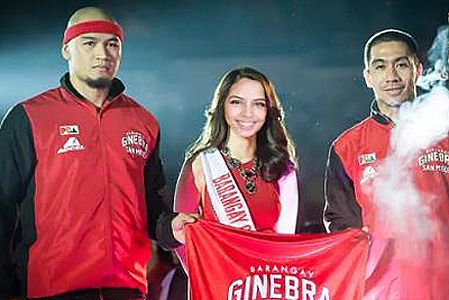 ADVERTISEMENT - CONTINUE READING BELOW ↓
There are also fans who have been trying to trend the #YayaDubAsGinebraMuse hashtag on Twitter, hoping their request will be granted on opening day of Asia's pioneering pro league.
Karen Pascual wrote @KDPascual: "Yaya Dub payag ka daw ba? ikaw ang reyna sa aming barangay. make it happen @barangayginebra @Ginebrakings
#YayaDubAsGinebraMuse"
Even non-Ginebra fans are likewise looking forward to seeing the wacky, lip-singing TV sensation grace the PBA's glitzy opening night.
Twitter user Miggy Santos recently wrote that he also wants Lola Nidora, Yaya Dub's boss played by comedian Wally Bayola, to be with her if ever she's chosen to become a muse.
"Expect Yaya Dub or Lola Nidora will be one of the PBA muses next season. Imagine Lola Nidora as GPort Muse," Santos wrote at @itsme_sirmigs
Mendoza rose to fame for her videos on Dubsmash, a video messaging app that allows a person to choose a known voice clip which they can dub.
ADVERTISEMENT - CONTINUE READING BELOW ↓
But her popularity reached greater heights when she starred in Eat Bulaga's 'Kalyeserye' and became the love interest of Richards, which Lola Nidora disapproves of.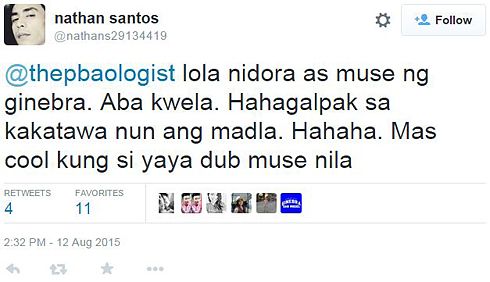 Another netizen, Nathan Santos, tweeted that having Bayola as muse of Barangay Ginebra will definitely bring the house down.
"lola nidora as muse ng ginebra. Aba kwela. Hahagalpak sa kakatawa nun ang madla. Hahaha," wrote Santos on his @nathans29134419 Twitter account.
ADVERTISEMENT - CONTINUE READING BELOW ↓
They Said It!

"Escort si Sir Al francis Chua. #AlDub" - Jawo Liguaton
But Santos said he would also prefer Yaya Dub to be Ginebra's muse.
"Mas cool kung si yaya dub muse nila," wrote Santos. - With reports from Mei-Lin Lozada

PBA Updates