IT wasn't only Greg Slaughter who made a rare appearance at Ginebra practice on Thursday.
While the Gin Kings star slotman attended his first practice after being sidelined for eight months, Ginebra support staff Crispin Tiamzon also paid a visit to check on the entire team.
The longtime liaison officer fondly known as "Mang Crispin" has been on a leave to recover from a mild stroke he suffered months ago, but he decided to show up to prove that he has recovered, bringing along some young friends over for photos with their favorite Ginebra stars.
"He just comes every once in a while," Gin Kings coach Tim Cone said. "I'm not sure he's ready to come back to work yet, but I just told him that he looks ten years younger than before. He's watching his diet, he looks real good, so we're real happy for him."
[See At Ginebra, even longtime staffers are 'NSD.' Mang Crispin is living proof]
The Gin Kings prayed over the 73-year-old Tiamzon at the final huddle at the end of practice.
"Okay naman (ako)," Tiamzon said, although admitting he still has some difficulty speaking. "Medyo maganda ang (pakiramdam) ko. actually, nagte-therapy pa ako."
"Pero depende siguro (kung kalian ako babalik)," he added. "Sa ngayon, hindi pa."
Continue reading below ↓
Recommended Videos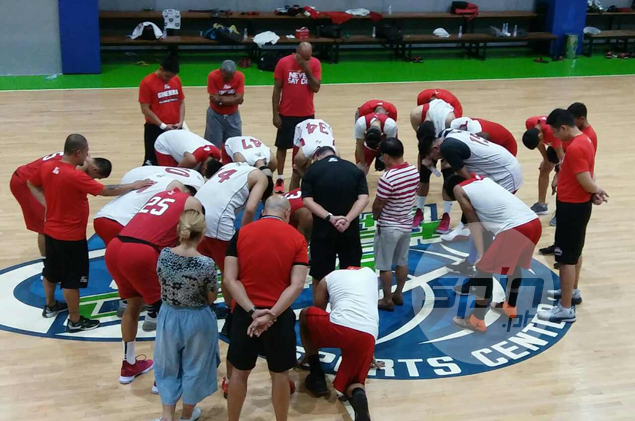 His presence, alone, has brought inspiration to the Gin Kings, who are taking on Blackwater in the PBA Commissioner's Cup on Friday in Biñan.
"He's always a bright light when he comes in to our practice," Cone said. "It means something when he comes."
[See Slaughter says knee 'stronger than ever' as he attends first Ginebra practice since injury]