TICKETS to Game Seven of the PLDT myDSL-PBA Philippine Cup semifinals series between Barangay Ginebra and San Mig Coffee are selling like hotcakes as expected as the league expects a record attendance for one of the most anticipated PBA games in years.
Fans numbering about 500 gathered outside the Smart-Araneta Coliseum as early as 3 p.m. or about five hours before game time, hopeful of getting the few general admission and standing-room-only (SRO) upper box tickets still up for sale for the do-or-die duel between two of the league's most popular teams.    
Security officers assigned to guard the premises of the coliseum said the remaining general admission tickets, priced at P130 on game day, are set to be snapped out by fans in a jiffy after they learned thatguaranteed seats were already sold out as early as Tuesday afternoon.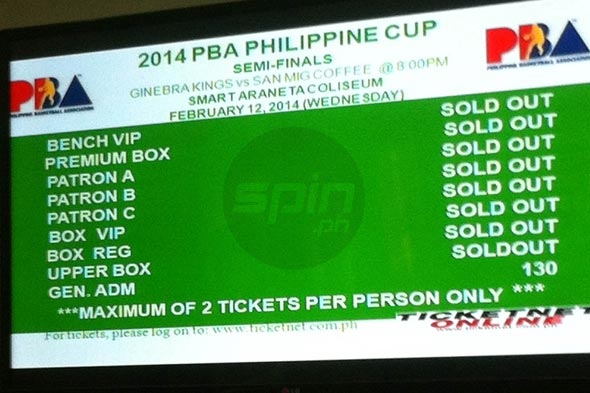 "Seven pa lang ng umaga kahapon (Tuesday) marami nang tao ang nakapila. Nag simulang magbenta ng (upper box with seats) tickets mga 11 a.m. hanggang 3 p.m.," the security officer guarding the Ticketnet office at the Big Dome disclosed to Spin.ph.
Ticketnet came out with an advisory informing the public that it will be selling SRO upper box tickets sometime between 5 to 6 p.m. on Wednesday, with each paying fan allowed to purchase just two tickets.
Hundreds of fans also started to fall in line outside the coliseum's red gate yellow ticket booth, as they await the selling of SRO tickets priced at P330 (upper box A) and P230 (upper box B).
Some Barangay Ginebra fans who endured the afternoon heat outside the coliseum adjacent to Farmer's Plaza even chanted "Gi-ne-bra!", "Gi-neb-ra!", "Gi-neb-ra!" as they try to find out if tickets are still available for tonight's game.
As expected, scalpers are making a killing.
One fan told Spin.ph he was able to secure two patron tickets regularly priced at P900 each for P5,000 each in the black market. On the other hand, P500 Upper A tickets are being sold for at least P2,000 while P130 general admission tickets are going for P500.