B-MEG's survival instincts once again overpowered Rain or Shine's hunger for a breakthrough title as the Llamados took a 97-81 victory on Friday night to send the PBA Governors' Cup Finals to a deciding seventh game.
The Llamados found their groove early and never let up, winning a second successive do-or-die game to move on the verge of becoming the first team in 21 years to win a league championship from 1-3 down in a best-of-seven finals.
B-Meg now goes into Sunday's Game Seven at the Smart Araneta Coliseum with a chance to duplicate the rare feat done by Ginebra in 1991 when the league's most popular team rallied to stun Shell in the First Conference Finals.
B-Meg coach Tim Cone, however, played down the triumph as he set his sights on the winner-take-all showdown beginning at 6 p.m. on Sunday.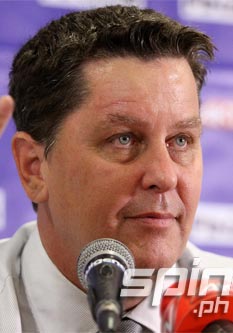 "This game didn't really mean anything unless we win Game Seven. All we did was just make the big dance," said Cone after the match witnessed by more than 13,000 fans at the Big Dome. 
For the second straight game, the Llamados limited the Painters to 81 -- a measly total which Cone said was a testament to the Llamados' commitment to defend.
"We did what we do best, which was defend," said Cone, whose wards limited the Painters to 38.2 percent. "It's been a re-commitment to defense since Game Four."
However, Cone admitted the Painters also "missed some shots they normally make."
Rebounding was another key stat as the Llamados dominated the Painters in that department for the sixth straight game, 56-33. As early as the first half, B-Meg already outrebounded Rain or Shine by 15, 33-18.
The Painters crept to within seven, 63-70, after a TY Tang triple with nine minutes and 50 seconds left in the fourth, but the Llamados could not seem to miss from there as they put the game on ice.
James Yap followed up his 30-point outing in Game Five with another solid effort, tallying 20 points, nine rebounds, and two assists.
His back-to-back triples gave the Llamados their biggest lead at 92-68, halfway through the fourth. In all, the Llamados went 7-of-11 from three-point territory in the payoff period.
The scores: 
B-MEG 97 - Yap 20, Blakely 19, Simon 16, Villanueva 11, Barroca 8, De Ocampo 8, Urbiztondo 7, Reavis 6, Pingris 2, Gaco 0, Burtscher 0.
RAIN OR SHINE 81 - Cornley 14, Tang 13, Norwood 12, Quinahan 9, Chan 7, Buenafe 7, Ibanes 7, Belga 6, Arana 4, Cruz 2.
Quarterscores: 19-13, 42-30, 65-56, 97-81