PETER June Simon scored off a huge follow-up basket as B-Meg pulled off a dramatic 74-72 win over Barangay Ginebra and secured the last finals berth of the PBA Governors Cup before a crowd of 14,068 at the Smart Araneta Coliseum on a rainy Friday night.
With the score tied at 72 and time down to less than 20 seconds, the Llamados turned to Marcus Blakely who then milked the clock, drove to his left and attempted a step-back jumper that was way off.
Luckily, Simon saved the day for the Llamados as the 6-foot-1 sixth man from North Cotabato lurked on the weak side and outhustled Ginebra's 6-foot-6 forward Rico Maierhofer for the rebound to score on a follow-up with 2.5 seconds left in the game.
"PJ was just in the right place, at the right time," Llamados coach Tim Cone said.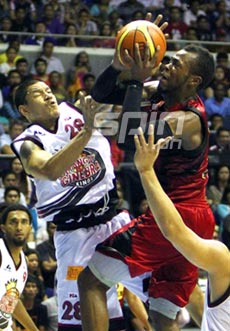 Continue reading below ↓
Recommended Videos
Kerby Raymundo had a chance to win the game for Ginebra, but missed a desperation three-point attempt in the next possession as time expired. The versatile forward also missed a triple try before the Llamados' winning possession.
"How fitting would have it been if that shot went in for Kerby," Cone said of the Raymundo, once a B-Meg stalwart.
Cone, nevertheless, lauded Ginebra's defense and persistence.
"It's always so gratifying to beat an opponent like them," he said.
Blakely registered 22 points, 11 boards, five blocks and four assists, while James Yap added 16 markers for the Llamados, who have now made it to the championship round for the 23rd time.
Cone has more Finals appearances than his team, getting to a title series for the 25th time. He has a chance to lead the Llamados to a second successive title after their success in the mid-season Commissioner's Cup.
Simon finished with 11 points in 24 minutes off the bench.
Cedric Bozeman led Ginebra with 27 points, 11 boards, and four assists.
The Kings last tasted the lead thanks to Niño Canaleta, who made it 69-68 after his jumper with a little less than six minutes to go.
The five-time slam dunk champion, who scored all but one of his nine points in the payoff period, was also the one who tied it at 72 after his triple with one minute and 57 seconds left.
Mark Caguioa, however, was off target for the Kings. Although the MVP candidate had 14 points, he shot a woeful 6-of-19 from the field.
"That was key for us when Mark was missing," Cone said.
The scores:
B-MEG 74 - Blakely 22, Yap 16, Simon 11, De Ocampo 8, Pingris 7, Barroca 5, Urbiztondo 3, Reavis 2, Villanueva 0.
GINEBRA 72 - Bozeman 27, Caguioa 14, Canaleta 9, Raymundo 7, Hatfield 6, Villanueva 3, Ababou 2, W. Wilson 2, Helterbrand 2, Maierhofer 0, Mamaril 0, Cortez 0.
Quarterscores: 23-19, 41-36, 58-57, 74-72.
PBA Updates