PBA great Lim Eng Beng was in an ebullient mood on Wednesday evening, looking nowhere like a man who has been battling liver cancer for the past two years.
Looking sharp in his elegant dark suit, the Filipino-Chinese legend, now 63, was on hand to receive his award for being part of the league's 40 Greatest Players in ceremonies marking the PBA's 40th anniversary.
Lim said he can't miss the sports gala since it was a rare opportunity to see some of his contemporaries and rub elbows with the present crop of PBA players, who have continued what they started 40 years ago.
The moment he arrrived, Lim exchanged pleasantries with longtime rival Robert 'Sonny' Jaworski - something he said they didn't do at the height of their rivalries in the seventies and eighties.
"Before, we don't talk to each other. It's only now after so many years that we see each other that we talked," Lim said as he waxed nostalgic on his many hardcourt battles with the 'Big J.'
ADVERTISEMENT - CONTINUE READING BELOW ↓
[See Jaworski calls on PBA to institutionalize rules on selection of future 'Greatest Players' lists]
Lim played for the U-Tex Wranglers from 1976 to 1982, while Jaworski was one of the superstars of the Toyota Super Corollas in the 1970s till the team's demise in 1983.
The sweet-shooting Lim was part of the U-Tex squad that beat Toyota in the 1980 Open Conference Finals, 3-2, in an epic series long remembered for Wranglers coach Tommy Manotoc's 'one step backward, two steps forward' strategy.
He also played an integral role in U-Text's 3-0 Finals sweep of the dreaded Crispa Redmanizers during the 1978 Open Conference which broke the stranglehold of Toyota and Crispa in the pro league.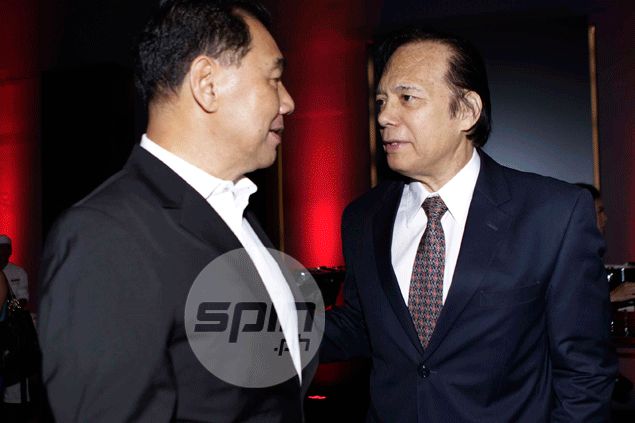 Lim admitted that while people talk about how physical and rugged players play the game today, they should instead look back at how they played during the first 10 years of the PBA.
The former PBA top gun admitted that back in the day, competition spilled outside the court because of their intense hatred for each other.
"Now, they (present crop of players) are playing physical games pero only in the game, but during our time, we played physical and after the game we still fight outside the coliseum," recalled Lim, a member of the Mythical First team in 1975 and 1978.
"Today, after the game, they go out for gimmicks, but during our time, our opponents, we don't go out with them," he added.
However, Lim said the passing of time has tempered the animosity he had with Jaworski.
"Whenever we play, we try to hit each other. And after the game, we still don't like each other," said Lim, who now coaches his alma mater Chiang Kai Shek's college team.
ADVERTISEMENT - CONTINUE READING BELOW ↓
"But now that we're awarded the greatest players (honor), it's about time we become friends and talk about our stories because time has passed. It's about time we talk," he added.
Before leaving the venue, Lim turned serious as he expressed his wish to recover from cancer and be able to take part in the PBA's golden anniversary, 10 years down the road.
"I'm prepared for everything. Maybe after 50 years of celebration of the PBA, I might not be here," he said. "We don't know, but we just keep on praying, and hopefully, through prayers, I'll be here celebrating 50 years of the PBA."