LA Tenorio, hero of Smart-Gilas 2.0's stirring triumph in the recent Jones Cup basketball tournament, is in danger of missing the national team's Fiba Asia Cup campaign in Tokyo next month.
Suiting up for the Nationals in the September 14-22 tournament formerly known as the Stankovic Cup, may mean Tenorio missing a big chunk of Alaska's preseason buildup -- a scenario an Uytengsu franchise coming off one of the worst seasons in its long history is not prepared to accept.
Alaska already began training for the PBA season kicking off on September 30, or just eight days after the end of the Japan tournament, as early as two weeks ago at a time when Tenorio and Alaska teammates Mac Baracael and Sonny Thoss, were busy with their stints with Gilas.
And with the Fiba Asia Cup again expected to run for more than week, the Aces can't afford to hold training without the man considered as the present face of the franchise.
"We are coming off our worst season thus far in the PBA and we would want everyone to be prepared for the coming season," said Alaska coach Luigi Trillo when Spin.ph visited the team practice on Wednesday.
"We're happy that LA's back. With what he did in Jones Cup, as a coach, I'm really proud of him," Trillo added.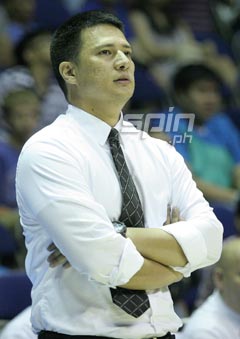 National coach Chot Reyes has given Smart Gilas 2.0 a week of rest before plunging back to practice on Monday and get in shape for the Tokyo cagefest.
That allowed Tenorio, adjudged MVP of the Jones Cup, to rejoin the Aces in their daily scrimmages for the first time, arriving at the team's training facility in Mandaluyong City without much fanfare and with palpable tension in the air.
The 5-foot-8 guard out of Ateneo exchanged pleasantries with his teammates then later settled into a seat beside big man Paolo Bugia, a close friend and teammate with the Blue Eagles during this UAAP days.
Tenorio later joined the rest of the Aces at midcourt once Trillo blew his whistle signalling the start of practice.
Given a choice, the heady guard made it clear he wants to play for Gilas in the Tokyo tournament.
"Ako, personally gusto ko pa rin maglaro sa Japan. Siyempre, para sa bansa na ito," Tenorio told Spin.ph.
While management will most likely thumb down his desire to play once again for Smart-Gilas 2.0 despite a clause in his contract that allows him to suit up with the national team once tapped, Tenorio said he would like to talk it out with Alaska's big boss so he can hear his side.
"Kailangan lang namin mag-usap uli siguro kung di sila papayag maglaro ako sa Gilas. Gusto ko rin malaman nila bakit gusto kong maglaro sa national team," he added. 
Trillo confirmed that the entire coaching staff met with Alaska team owner Fred Uytengsu at the Manila Polo Club on Tuesday to discuss, among other things, the Aces' direction for the upcoming season. Tenorio's continued participation with the national team program was also tackled, he added.
They are set to meet again to decide the fate of Tenorio's stint with Gilas.
Alaska officials, however, were eerily silent on reports that they tried to trade Tenorio on draft day for Meralco's top pick in the recent rookie draft -- news that the Aces guard made it clear he was not entirely happy about.
However, Trillo said he is set to have a heart-to-heart talk with the Aces' prized playmaker to clear things up and hopefully have both of them on the same page before the start of the season.