LOS ANGELES — Kia Picanto has put guard LA Revilla on the trading block following the controversial tweet he posted pertaining to the team's decision to deal away the season's no. 1 overall pick to San Miguel in the PBA draft.
Team governor Bobby Rosales admitted the franchise was hurt by Revilla's allegations about the Picanto giving out a lot of excuses regarding the move to send the rights to draft Christian Standhardinger to San Miguel in exchange for three role players and a future draft pick.
Rosales said the former La Salle stalwart could have easily talked straight to management about it rather than venting his ire on social media.
"We're actually disappointed about it. From the very start he's been the face of Kia. And it was Kia which gave him a break," added Rosales of the 27-year-old point guard, who was originally drafted by Globalport in 2013 but didn't really blossom in his pro career until he joined KIA in its debut season the following year.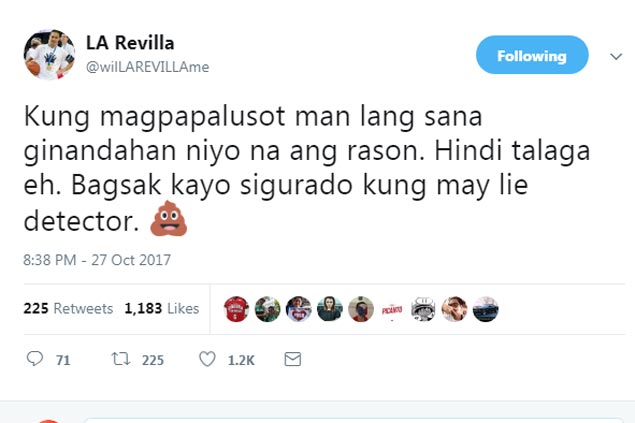 Continue reading below ↓
Recommended Videos
Rosales said Revilla already had a talk with management about how he felt, although the damage obviously had already been done.
"In fairness to LA, he did apologize naman to us," said Rosales of Revilla, who still has two years left in his contract.
Revilla is no longer attending Kia practices at the Azure team facility. And if there would be team or teams interested in getting his services, Rosales said Kia is willing to sit down and talk.
"We can talk to teams that are interested to him. And according to them meron," Rosales added.