KIEFER Ravena admitted he was surprised to get involved in a physical altercation with college teammate Von Pessumal in NLEX's 109-98 loss to San Miguel Beer in the PBA Philippine Cup on Friday night.
The longtime Ateneo teammates turned into foes for the first time in the pro level, with Pessumal living up to it when he shoved Ravena during a rebound play early in the fourth quarter, leading to him getting called for an unsportsmanlike foul.
"I did not expect that at all," Ravena said. "But hopefully Von doesn't take it personal. I'm just doing my job."
Asked if something triggered Pessumal to push him, Ravena answered in the negative, although he admitted he stared at his college buddy at one point during the match.
"Wala, wala talaga," Ravena insisted. "If you watched the game, when that fastbreak happened – the same exact possession na I challenged him, looked at him, and after that yun na yung nangyari. But I never instigated something to provoke Von to do that."
"Probably nung tinignan ko siya," he was quick to add. "But you know, Von and I, we go way back. Things like this hopefully don't become too personal. I have no intention na ipapahiya yung tao or sasaktan mo yung tao. Wala namang ganun. Laro-laro lang."
Continue reading below ↓
Recommended Videos
"Probably that started all the commotions during the end game," he continued with a smile. "Yun yung pinakauna eh. And with that, the team got fired up and it worked for them. Even though it wasn't a flagrant foul called on Von, but it worked for them. Everybody got fired up that's why they made their run.
Pessumal, however, was quick to play down the incident on Twitter.
Here's his tweet: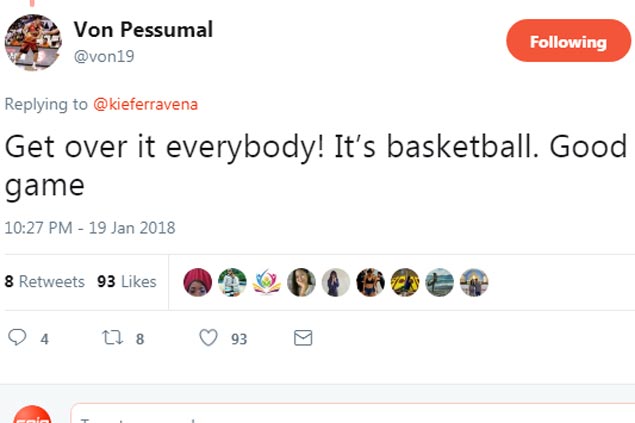 Ravena felt that the SMB players – aside from Pessumal – tried to make him lose focus by engaging in a psy war.
Ravena admitted he talked trash in retaliation as he refused to get rattled, finishing with a team-high 15 points on 4-of-10 shooting along with six assists, and three boards that went to waste.
"For me I'll just try to – like what Chris Ross was doing to me – tried to get inside my head," Ravena said. "I just wanted that as an advantage. They were talking smack so I was trying to do the same thing. It was a heat of the moment, but as much as possible I want to focus and stick to the game. Parang nawawala ako sa focus sa laro.
"So kahit anong ginagawa nila Chris, nina Alex... I studied them too much to know that they're gonna do that," he added. "Besides doing that, magaling na sila eh. So ako kailangan ko pa lalo mag-focus kasi they're doing that at the same time they're carrying the load of the team, so mahirap gawin yun. So ako, I can't be affected by that."