WHAT his dad accomplished, Kiefer Ravena will now try not just match but to surpass as he finally made his jump to the pros.
As the amateur superstar turned his foremost hoop dream into reality after being selected second overall by NLEX, veteran Road Warriors coach Yeng Guiao couldn't help but wax sentimental.
"Hindi pa tao yan, 'di pa pinapanganak yan (si Kiefer), player ko na ang tatay niya," said Guiao, who coached Bong Ravena in the amateur ranks and had planned to draft him decades earlier.
Kiefer is one of a record five second-generation players drafted on Sunday, along with Jeron Teng, Macmac Tallo, Gwyne Capacio and Elmer Cabahug.
Having three sons of former PBA players being picked in the first round – Ravena, Teng, and Tallo - is a record in itself, according to PBA chief statistician Fidel Mangonon III.
Ravena and Teng were the two biggest names to come out of the amateur ranks in recent years, but that doesn't mean they are guaranteed to surpass the pro careers of their fathers.
Same with Capacio, Tallo, and Cabahug.
Bong Ravena had a 13-year PBA career crowned by a Rookie of the Year award, Most Improved Player honor and a Mythical Second team citation while Alvin Teng spent 14 seasons in the PBA, distinguishing himself as one of the toughest power forwards of his time.
Continue reading below ↓
Recommended Videos
Glenn Capacio and Boy Cabahug were former teammates in the celebrated Purefoods teams of the nineties while Mark Tallo played two seasons with Seven-Up in the nineties.
The elder Capacio established himself as one of the best mid-sized defenders in the league while Cabahug was a deadshot who reached the 5,000-point scoring plateau in just nine seasons as a pro.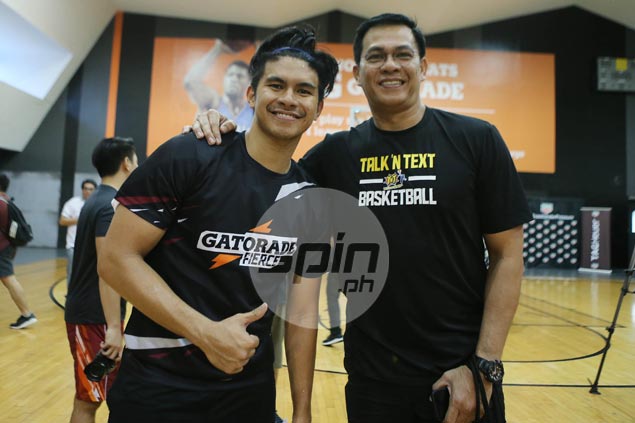 The young Ravena has always been a student of history - and the circumstances surrounding his drafting was no exception.
Kiefer knows the story of how Guiao had planned to grab Bong for Swift with the No. 6 pick in the 1992 PBA rookie draft, only to be beaten to the draw by San Miguel at No. 5.
"Twenty-five, twenty-six years ago, coach Yeng, kinukuha niya yung dad ko, ngayon nagkaroon siya ng opportunity na kumuha ng isang Ravena," Kiefer said.
"Sana mas okay yung nakuha niyang Ravena," he smiled.
But more than the on-court accomplishments, Kiefer said he wants to emulate his dad in the way that he had been able to give his family a good life through basketball.
"Four years old, five years old nung nalaman kong pwedeng gawin itong hanap-buhay," Kiefer said. "Nakita ko yung daddy ko kung paano kami, how he was a great provider for our family with basketball."
"So I wanted this to happen to myself as well, for myself to help my family out and for the future as well," he added.