"EFFORT," "character," and "focus" are some of the words you routinely hear from Chris Gavina nowadays, terms he uses to fire up his players at Kia amid their winless campaign so far in the PBA Governors' Cup.
But don't be surprised if you hear the Picanto coach suddenly sounding like a scientist these days, casually blurting out terms like "Vitamin B6" and "amino acids."
That's because you're bound to see more of the other side of the 38-year-old Gavina, who has launched "Impakt," a sports drink that he said offers joint pain relief and mobility for athletes and active people following a game or a training session.
"Being a former athlete myself, and when you work out, day-to-day practice, and you can't move the next day, and you wish there was a drink where it can help your joints, feel like you're not bone-to-bone, that's why…you know what they say, 'necessity is the mother invention,' so I felt like it was a necessity," Gavina, a Stevens Institute of Technology product, said.
The America-raised full-blooded Filipino not only played for Stevens Tech – where he finished as the second all-time scorer and saw his jersey retired, but he also graduated there with a degree in chemical biology.
Continue reading below ↓
Recommended Videos
Then he became a formulation chemist for top cosmetics company L'Oreal in New Jersey for nearly seven years before moving to his parents' country to pursue his hoop dreams.
"So I think I know what I'm doing," Gavina said with a chuckle.
And one could definitely tell with how he rattles off the nutrition facts of his drink that has Alex Cabagnot as its main endorser.
"With no caffeine, and forty-nine calories only, and eleven grams of sugar, it's a lot greater substitute over a lot of these high-caffeine, high-sugar energy counterparts," Gavina said as he highlighted the drink's featured ingredient, L-Carnosine.
"It's an amino acid it is featuring that no other drink is featuring right now," the full-fledged chemist said. "It gives you a great boost in mood and has a synergistic effect with B6 and B12, and there's no drop in energy because there's no caffeine."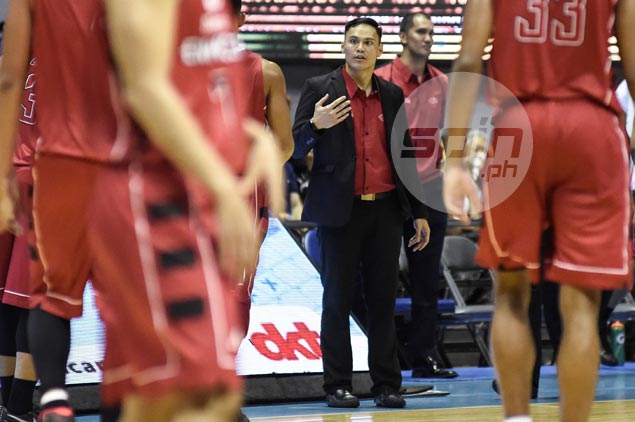 But don't think Gavina split his time coaching Kia and making his drink. He started to make the formulation of Impakt way back in 2014.
"When I wasn't a head coach, I had a lot of time," Gavina said. "This is already three years in the making."
Gavina clarified he's not competing with top sports drinks like Gatorade.
"It's not a hydration drink," Gavina insisted. "It's a pre- and post-game drink."
"We even say that it's not just an energy drink because we go beyond that: we add the extra stuff that I feel athletes just really need, and I took out what I feel that wasn't necessary," he added.
The drink should definitely offer more than what usual sports drinks provide as its suggested retail price is P120 for a 350 ml bottle of four seasons flavor.
"I wasn't going to give anything that I wouldn't give my mom, right? I made sure of that," Gavina said with a smile. "So a lot of what I concentrated on was really trying to give something premium to people that was healthy and works."
Impakt has been selling for two weeks on a soft launch at Elorde gyms, Ultimate Fitness, Iron Den in Las Pinas, waiting for approval from the Food and Drug Administration (FDA) so it can be released in the open market.
"I'm pleading to them (FDA). I hope they read this," Gavina said with a smile.
While waiting, he's focus on figuring out how to lead the Picanto to their first win this conference.