AS moderator of Spin.ph's comments and social network pages, we've noticed, with equal parts amusement and annoyance, a growing vocabulary of buzzwords which Filipino basketball fans throw around online to ridicule or make fun of other fans and their teams.
Every sport, of course, develops a language of its own. The slang (idioms or otherwise) carries a certain familiarity and idiosyncrasy that unite both athletes and their supporters, and Philippine basketball and its diehard fans have been no exception.
We've found out that Pinoy hoops fans have in fact, shall we say, become especially adept at coming up with colorful and creative words that really drive the message home (and then some). It is our job of course to determine what's offensive and what's par for the course.
So in the interest of research, we've decided to dig deep on the meaning and origin of the more popular ones, in the hope of better understanding our readers.
Here's the initial list:
1) Kangkong
A staple food in Filipino cuisine, the kangkong (water spinach) is a cheap yet nutritious addition to well-loved dishes such as sinigang and adobo. It is even served tempura-style in restaurants.
But since it mostly grows in canals and marshy areas, this leafy plant has led to the tagalog phrase, "Sa kangkungan ka pupulutin," meaning the recipient will end up in a very undesirable place.
The phrase has since been shortened and given a different spin by fans, that 'kangkong' has become an impolite way of referring to one and one's team as "losers" or "in the gutter." A photo of a bowl of sinigang posted on social media also carries the same negative message.
ADVERTISEMENT - CONTINUE READING BELOW ↓
"Kangkonatics," on the other hand, is usually reserved for the long-suffering fans of the league's most popular team, the Barangay Ginebra Gin Kings, whose last PBA championship came way back in 2008.
To us at Spin.ph, it is simply an insulting way to refer to a very fine vegetable.
2) Boom Panes
If you watch 'Showtime' on ABS-CBN, then "Boom Panes" should be familiar. The term is a catchphrase popularized by comedian Vice Ganda and his co-hosts the noontime variety show.
For PBA fans, "Boom Panes" is used as a sort of explanation point to drive home a point. "Boom" signifies an explosion while "Panes" (or "panis," literal meaning stale or spoiled) refers to an expression of rotten.
In an interview with Kris Aquino, Vice said the phrase is meant to convey a message of turning one's weakness into strength.
Incidentally, the comedian is a big fan of sports, having played basketball in elementary and high school and volleyball when he studied in FEU.
With the aide of Vice Ganda's TV network, 'Boom Panes' has evolved into a life of its own, becoming a novelty song that can either come off as a) funny, b) insulting, c) annoying or d) all of the above. One thing for sure, it will be constantly referenced by Pinoy basketball fans.
3) Bora
Simply put, 'Bora' is the local version of the 'Gone fishin'' catchphrase constantly used by Inside the NBA show host Ernie Johnson and former ballers Charles Barkley, Kenny Smith and Shaquille O'Neal.
By referencing the resort island of Boracay and its famous white sand beach which is a well-loved vacation destination, 'Bora' now refers to a team that has just been eliminated from contention and is now officially on vacation (until the next season or, in the case of the PBA, the next conference).
So when someone tells you that your PBA team is the champion of the Boracay Cup, don't feel too pleased about it.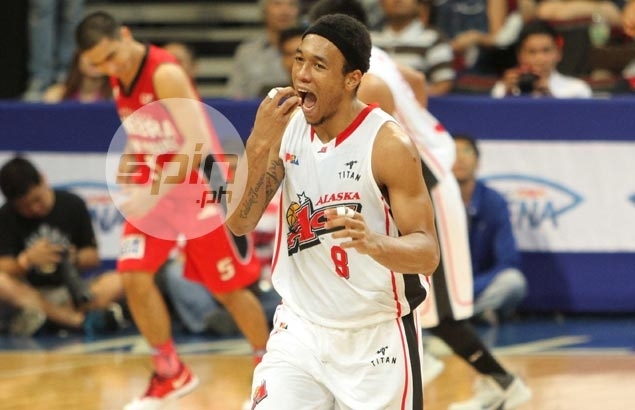 4) Nganga
"Nganga" (literally "to open one's mouth") has a controversial origin from one of the PBA's most polarizing players.
During the quarterfinal series of the Philippine Cup between Alaska and Barangay Ginebra, then rookie Calvin Abueva of the Aces was caught doing a 'hand to mouth' gesture during a game against Ginebra.
We're not exactly sure what Abueva meant since the gesture could mean several things.
One theory behind Abueva's actions was that the Alaska forward was implying the Gin Kings were not up to his level of play ("marami pang bigas na kakainin"). Another possible definition could be that the Aces were simply eating up the opposition.
ADVERTISEMENT - CONTINUE READING BELOW ↓
Abueva, however, soon discovered that what goes around comes around, after Ginebra won the following game and sent Alaska to, well, Bora.
Adding insult to injury, Gin Kings manager, Afrancis Chua mimicked the "Nganga" gesture before a predominantly pro-Ginebra crowd.
The mercurial player's antic also earned him the ire of Gilas Pilipinas coach Chot Reyes who said that such a display has no place in international competition.
In another context, "Nganga"could also mean to have one's mouth left agape after a jaw-dropping move. (To find out what we mean, try looking for Kevin Garnett's priceless reaction to Vince Carter's 'Dunk of Death' over Frederic Weiss of France in the Sydney 2000 Olympics.)
So you see, PBA and college basketball wars extend past the arenas. After teams face off on the hardwood, a bigger battle is waged on Facebook, Twitter, sports chatrooms and the comments sections of your favorite sport websites. So whatever player or team you support in the PBA, make sure you stay armed with the latest information. As the old G.I. Joe public service announcements of the 80s say: "Knowing is half the battle!"