PUERTO PRINCESA - When Justin Melton took off for a dunk in blindfolds during the PBA Slam Dunk competition on Friday, he never thought he'd end up landing on CNN and other major US networks.
"I made it man, though I haven't actually seen it yet, but people have been messaging me back home from the US, telling me, 'I saw you on CNN,'" the Fil-American told Spin.ph over breakfast, saying his phone was flooded with messages from his family and college friends since Friday evening.
"But it's unreal, I never thought I would be seen at CNN or ESPN on a failed dunk," he said. "We planned it, but we never know it would go this big."
Yes, you heard it right. It's so easy to laugh at the 'epic fail' and pour scorn on the fellow, but you might want to know that the lame dunk was - that's it - meant as a joke.
Here's how it went.
Melton, the 5-foot-9 guard from Purefoods Star, entered Friday's much-awaited side event for the PBA All-Star Weekend as the co-defending champion with Meralco's Rey Guevarra.
The Fil-Am guard initially wanted to do a two-handed, windmill dunk in the first round, but his first two attempts proved unsuccessful. He then adjusted by trying a 360-degree dunk in his third attempt, which, again, failed.
Continue reading below ↓
Recommended Videos
So with just 20 seconds left to complete a dunk in the first round, the former Mt. Olive College standout thought it best to go to his 'fallback' plan, that is, with the help of Purefoods Star teammate and good buddy Joe Devance.
"My initial plan was, and I talked about this with Joe before the competition. I'll try to attempt two or three serious attempts, if not, then I'll have fun with this," shared the 27-year-old Melton, who can reach a high of 11 feet, four inches with his vertical leap.
"So that's what I did afterwards. It wasn't a serious attempt, but it was more of fun and just to get people to enjoy."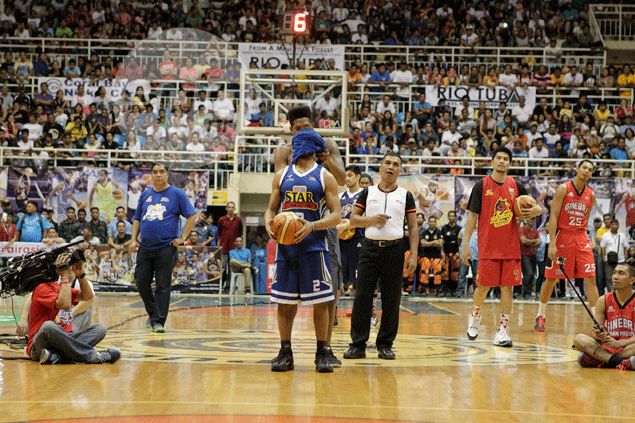 In his final first-round attempt, the high-leaping Melton tore a page from former NBA player Baron Davis' failed blindfold windmill dunk attempt during the 2001 All-Star Weekend.
With Devance' shirt covering his eyes, Melton took off from just inside the free-throw line, and went for a windmill dunk. Problem was, he was several feet away from the basket, and ended up spiking the ball on the floor.
All in good fun, of course.
"I don't think people know that's a joke, but it's just fun and game," he said, smiling as he recalled what he did on the way to losing his Slam Dunk title to eventual back-to-back champion Guevarra.
Asked if he'll compete in the slam dunk competition again, Melton said yes - but no more jokes, he swore.
"I'll see. I''l compete if the opportunity presents itself, but I'll compete seriously."