JUSTIN Brownlee can't wait to buckle down to work for Barangay Ginebra, even as two tough games against old, familiar faces await him in the PBA Commissioner's Cup.
Brownlee attended his first practice back with the Gin Kings on Wednesday after he was called up to replace Charles Garcia in the wake of an early slump that saw the league's most popular team lose three of its first four games.
Ginebra wasn't complete in Brownlee's first day in practice as head coach Tim Cone, assistant coach Richard Del Rosario, Japeth Aguilar, and Scottie Thompson are in Digos City for the PBA All-Star festivities.
But Brownlee is thrilled to be back home.
"It feels great just being with the guys, seeing everybody's faces," said Brownlee after Wednesday's practice at the Upper Deck gym. "Didn't get to see coach Tim (Cone), coach Richard (Del Rosario), Japeth, and the rest but hopefully, tomorrow they'll be back and see those guys, too."
"Just ready to get going and ready to play," said Brownlee.
The 6-foot-5 Brownlee was still unaware of what awaits him upon his return to Ginebra and was taken aback when told by reporters that a game against Meralco - a team they faced in the last two Governors Cup Finals - will serve as his debut on June 1.
Continue reading below ↓
Recommended Videos
"Wow," said Brownlee laughing.
"That team, I saw a couple of games, they are playing great basketball," said Brownlee. "I see (Chris) Newsome having a big game a couple of games ago. (Baser) Amer, he has been playing incredible. (Jared) Dillinger has been knocking down shots. It seems like they are playing their best basketball so I know it's going to be a tough match-up like we always have. But man, what a way to come back. I can't wait."
His second game will be against San Miguel and Renaldo Balkman, who Brownlee teamed up with to lead Alab Pilipinas to a maiden Asean Basketball League (ABL) title.
He has nothing but praise for the enigmatic Balkman.
"That's an incredible player, man. I had a lot of fun with him. I can say a ton of things about that guy, from being a great character guy to his ability on the court, to his championship heart and spirit. I know it's going to be a tough game just like me and him playing against opponents in the ABL," said Brownlee.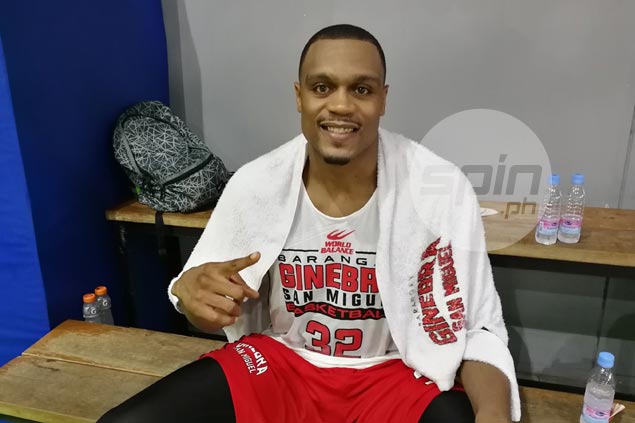 The 30-year-old Brownlee said he is in great shape as he stayed in the country following the championship run with Alab Pilipinas to to private workouts.
Brownlee is also unfazed by Ginebra's poor start.
"As far as being 1-3, just seeing the past two games, I've seen some good things and I'm just ready to come in and help the best way I can by playing hard, playing my game, and getting some momentum," Brownlee said.