TAB Baldwin has multi-titled coaches in his staff, yet the Gilas Pilipinas mentor has tasked Josh Reyes to help familiarize the members of the national pool to the American-Kiwi's system in their practices at the Meralco Gym.
The players would still listen intently and execute after Reyes laid the groundwork for the offense they will use for the Fiba Asia Championship.
He may have less experience than Norman Black or Jong Uichico, but Reyes showed he's capable as he has known Baldwin and his system for over a year now or since the American-Kiwi was initially hired as a consultant.
"Parati kaming magkasama when we were scouting, talking about the game, talking about adjustments," Reyes told Spin.ph. "We're always talking, so medyo gamay ko na how he (wants the offense to be ran)."
"Nagkaroon na ako ng dry run ng system."
Reyes said Baldwin calls his offense "Swing."
"It's a form of motion offense," the son of former national coach Chot Reyes said. "Like all offenses, it involves a lot of reading, screening, cutting, and making the right plays – without divulging too much information."
ADVERTISEMENT - CONTINUE READING BELOW ↓
Reyes said Baldwin brought him as an assistant, apart from scouting and video, to guide the players in transitioning from his dad's dribble-drive offense to that of the new Gilas coach's system.
"So really, my job is to make it work," Reyes said. "If somehow, hindi naturo ng mabuti sa players or hindi nila na-run ng mabuti, the fault's on my shoulders."
Compared the two offensive systems, Reyes said they have similarities, but Baldwin's version is "much more structured."
"It's still free-flowing," the Talk 'N Text assistant coach said. "It's still very decision-oriented for the players. But it's geared toward getting the ball inside and making plays out of that, and good screening and really much more structured."
"Pero at the same time, having the success we had in the past tournaments, especially offensively – he did not totally abandon the old system," he was quick to add. "We'll still have aspects of our old system, among other things."
"The two offenses should really work hand in hand to have a very potent overall offensive system," he continued.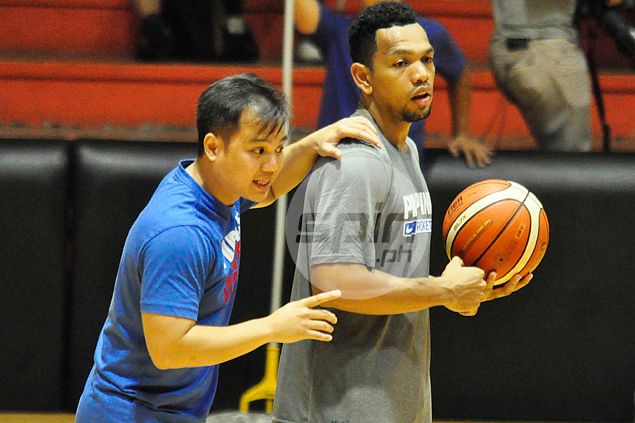 Reyes believes the players have been grasping the new system well.
"All of them are veterans of the game, very smart, that's why they've reached this level of basketball not just because of their skill, but because of their basketball IQ," he said. "It's going to be very easy for these guys to pick up on the new things. It's just a matter of practicing and repetition, and more importantly, the jelling of the team."
ADVERTISEMENT - CONTINUE READING BELOW ↓
"The learning is the easy part. The part that takes a lot more work is learning the system in accordance with the personnel around you — how to play each other with the system," he added. "Whatever system naman a basketball team runs, it's really about the executing it correctly."
Reyes said Gilas will fly to Estonia for some tune-up games in the next two weeks.
"It's very important to get our tune-up games, go against bigger European teams that will defend us so that we'll get experience of teams defending us," Reyes said. "With those tune-up games, dun namin ma-ti-tinker yung offense namin on what we need to do."
Get more of the latest sports news & updates on SPIN.ph