BARANGAY Ginebra has completed its third trade deal since Frankie Lim took over just over a month ago as head coach, sending Joseph Yeo to Barako Bull for Sol Mercado on Monday.
But team insiders said the team is not done wheeling and dealing.
According to sources, more deals are in the pipeline as Lim looks to balance his lineup and handpick the players he will take to battle when he makes his Ginebra coaching debut in the season-ending Governors Cup.
Yeo was one of four Ginebra players identified by team insiders as candidates to be traded upon the assumption of Lim, who, the sources said, isn't 'comfortable' with the former La Salle star in the lineup.
True enough, Yeo was informed by Ginebra governor Alfrancis Chua about the trade after practice on Monday, as soon as PBA commissioner Chito Salud approved the trade from Las Vegas where he watched the Manny Pacquiao-Floyd Mayweather fight.
"Dati ko pa sinabi sa inyo, di ba? Na si Joseph, mate-trade. Ayan. Tinuluyan na nila," said the source.
[See Ginebra sends Yeo to Barako in one-on-one swap for Mercado]
Sources said the Yeo trade means LA Tenorio and Jayjay Helterbrand will likely stay at Ginebra, joining Mercado in a guard-heavy lineup that also includes Mark Caguioa, Eman Monfort and Josh Urbiztondo.
However, the same source said the fourth Ginebra player in that group, Mac Baracael, is not safe, raising the possibility that he may end up at Purefoods in a trade that should involve a third team as a 'conduit.'
"Yun ang posibleng sumunod. Si Baracael, baka mapunta sa Purefoods. 'Yung LA Tenorio at Jayjay Helterbrand, baka hindi na muna ma-trade," said the source.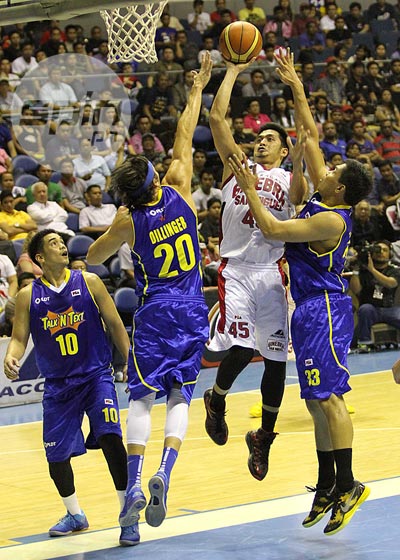 As for another Ginebra's desire to acquire Marcio Lassiter from San Miguel Beer, the source said it is still on Ramon S. Ang's desk awaiting the approval of the San Miguel Corp. big boss.
Will Ang approve the deal?
The source said the clamor from fans who have grown impatient waiting for Ginebra's first championship in seven years may yet influence the final decision.
"Mr. Ang kasi has been hearing the clamor of the fans, kaya kita mo very active ang Ginebra ngayon. Full support ang management sa bagong direksyon ng team," said the source.
"Kilala mo naman si Frankie, he is a winner. Kaya tingnan pa natin kung ano mangyayari," he said.
[See Can Ginebra succeed in getting Lassiter from SMB? No deal, says source]