AS the newest batch of NBA rookies settle in with their new teams, we couldn't help but look back at the time when a Filipino player almost made it to the big league.
No, we're not talking about Fil-Americans Raymond Townsend or Jordan Clarkson, although both did make it to the NBA. We're not even talking about Japeth Aguilar, Bobby Ray Parks Jr., or even Kiefer Ravena, who all got as far as the NBA D-League (now G-League).
This is the story of Johnny Abarrientos, who, during the peak of his powers back in the mid- and late 1990s, came so close to being signed to a short-term contract by the Charlotte Hornets to become the first homegrown Asian player in the NBA.
That was in the late nineties after Abarrientos, in only his fourth season as a pro, was named the PBA MVP after averaging 14.6 points, 4.9 rebounds, 5.4 assists, and 1.4 steals in leading Alaska to the a grand slam in the 1996 season.
For those too young to have seen him play, here's a short video to give you an idea how good Johnny A was at that time.
Abarrientos was even better after the grand slam season, improving his numbers to 16.7 points, 4.6 rebounds, 6.0 assists, and 2.2 steals. So it came as no surprise that he soon caught the attention of international NBA scouts like Charlotte Hornets consultant Joe Bettancourt, who flew to the country to get a closer look at the 5-foot-7 playmaker.
Continue reading below ↓
Recommended Videos
The former Far Eastern University star said he got two offers from Bettancourt. First was an invitation to Charlotte's training camp, which didn't interest him, and the second was an offer to sign a 10-day contract with the Hornets.
"Actually, twice n'ya ako in-offeran. Una, training camp lang sa Charlotte, pero hindi namin masyadong pinansin yun. If you think about it, parang malayo sa katotohanan eh kasi di namin alam kung seryoso sila sa offer," recounted Abarrientos.
"Pagbalik ni Joe Bettancourt dito, nanood siya ng game namin, Purefoods versus Alaska. So parang seryoso siya. Nanalo kami ng game, ako pa ang best player, at na-impress din siya."
To Abarrientos' knowledge, Bettancourt's firm wanted to be the first scouts to tap into the Asian market and bring the first player from the region to the NBA. That was two years before Wang Zhizhi was drafted by the Dallas Mavericks in the second round of the 1999 NBA draft - and long before the Chinese big man finally played his first NBA game.
Bettancourt met with Abarrientos and Alaska head coach Tim Cone at Manila Peninsula for a "secret meeting" one November evening back in 1997 as they plotted the point guard's path to the NBA. The plan, Cone said, was for Abarrientos to sign a 10-day contract with the Hornets.
Under league rules, signees will have a chance to prove themselves for the duration of the first short-term contract. If they impress, the team can offer him a second 10-day contract, after which he should be either released or signed for the rest of the season.
If the team decides to no longer give him another offer sheet after the 10-day contract, the player automatically becomes an unrestricted free agent.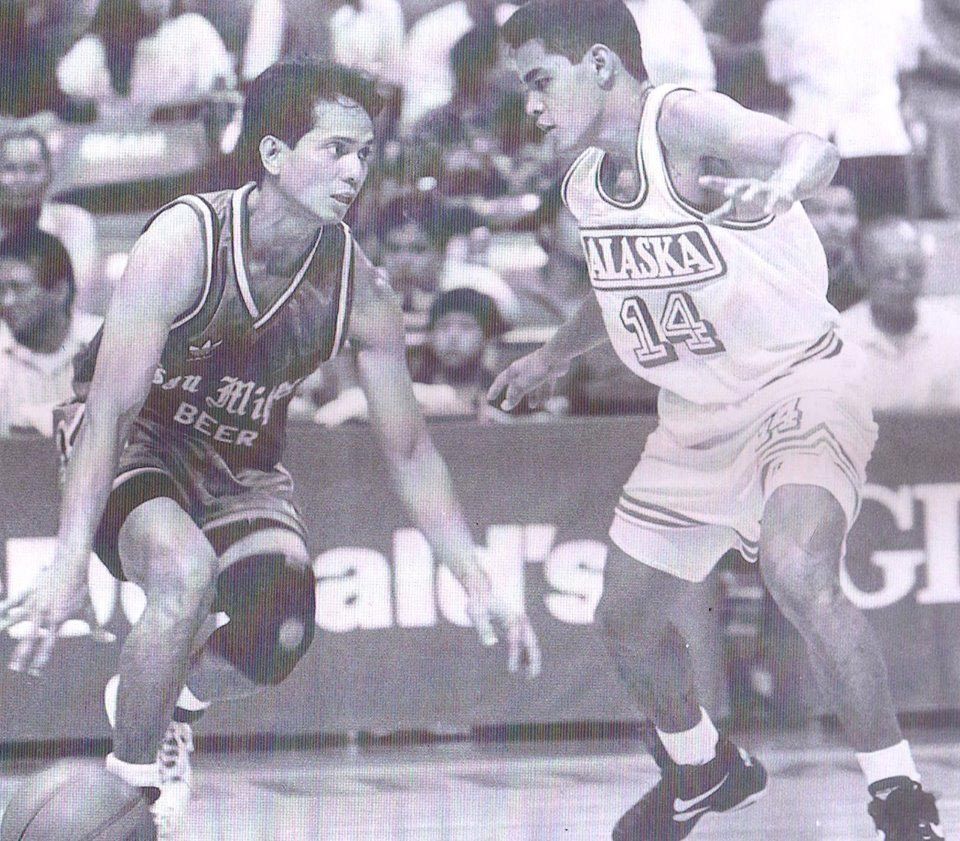 Abarrientos said the NBA plan had the blessings of both Alaska team owner Wilfred Uytengsu and Cone.
"Willing din naman si boss Fred na papuntahin ako kasi everybody was dreaming about it. Kung natuloy yun, first Asian ako sa NBA. Mauunahan ko pa sana sila Wang Zhizhi," said Abarrientos.
"Ang pagkakasabi sa akin ni coach Tim, if willing akong pumunta, yun na ang best way. Kung mag-training pa ako ng two months sa training camp nila, nasasayangan lang si coach Tim. Pero kung may offer na 10-day contract, siguro baka mas matuloy din."
Cone said the Bettancourt group was dead-serious about the offer.
"They were very serious about it. They were looking for a replacement for Muggsy Bogues and their offense was built around a small point guard. So he was very interested in bringing Johnny in, at least for a 10-day contract, or bring him over and let (Charlotte) take a look at him," the multi-titled coach shared.
Asked about the meeting, Cone said, "It lasted for an hour, an hour and a half, and we felt things were going to happen and they'll get back to us."
As he left the meeting room that night, Cone said he felt he had lost Abarrientos.
"When I walked out of the meeting, I was thinking I lost Johnny. I'm not gonna have him for a while. I'll lose him for the national team and I was kind of upset," he said.
Cone wasn't just losing his top playmaker in an Alaska team that also featured Jojo Lastimosa, Jeff Cariaso, and Bong Hawkins. He was also losing his trusted court general for the Philippine Centennial Team ahead of the 1998 Asian Games in Bangkok.
But the American bench tactician wasn't about to stand in the way of a nation's lifelong dream.
"It was a dream come true. You got to let guys live out their dreams. It would have been a country dream as well. You can't hold anything back like that," he said. "I'm disappointed for myself, but really happy for him."
Oddly, the call never came.
Days after the meeting, the Hornets sent fan favorite Bogues and Tony Delk to the Golden State Warriors in exchange for BJ Armstrong. Bogues, the 5-foot-3 guard who has been with the franchise since its formation back in 1988, was saddled by a recurring knee injury that time which led coach Dave Cowens to cut down his playing time.
"Wala na silang feedback kung papupuntahin pa ako," Abarrientos recalled. "Hindi na na-pursue. Hindi na nakabalik si Joe Bettancourt dito kasi grupo lang nila ang interesado kumuha ng Asian players."
Cone added: "I was really excited, but it just didn't work out. It was that close."
Looking back, Abarrientos, who turned 48 on Tuesday, said a trail-blazing NBA stint would've changed the Philippine basketball landscape.
"Hindi lang pride ng mga kabataan yung mabu-boost eh. If you think about it, papasok yung gobyerno para suportahan yung sports ng Pilipinas kasi kulang na kulang sa suporta pa rin eh. Mas tataas yung respeto ng buong mundo kung may natuloy sana sa NBA. Yung kalidad ng basketball, for sure na tataas," he said.
Cone felt the same way.
"It would have been huge for everybody. It would have been huge for future generations because if Johnny got there, the Philippines will be on the map and guys would come over here and take a look at people," he said.
"Kiefer has done his thing, Japeth has done his thing, Bobby Ray, it's still gonna continue. As much as our guards have their chance, I think our bigs have a chance, too. Bigs are harder to find, so some of our guys like Greg (Slaughter), June Mar (Fajardo), and Kai Sotto, maybe they have a shot."
The legendary mentor bared that after Abarrientos, he also tried to help another Filipino make it to the NBA.
"I tried to get June Mar into the NBA D-League, kind of just an open invitation and we were trying to get it through (former PBA consultant and Dallas scout) Jim Kelly," he bared of the events that happened back when the Cebuano giant was still in his early years in the league.
"Jim was opening up a spot for June Mar and I thought June Mar might have got some, but there's just too many things going on for June Mar here, so I've never spoke to him about it. This was in his first or second year in the PBA and I felt he could do very well in the NBA D-League and get himself a chance to get up to the NBA."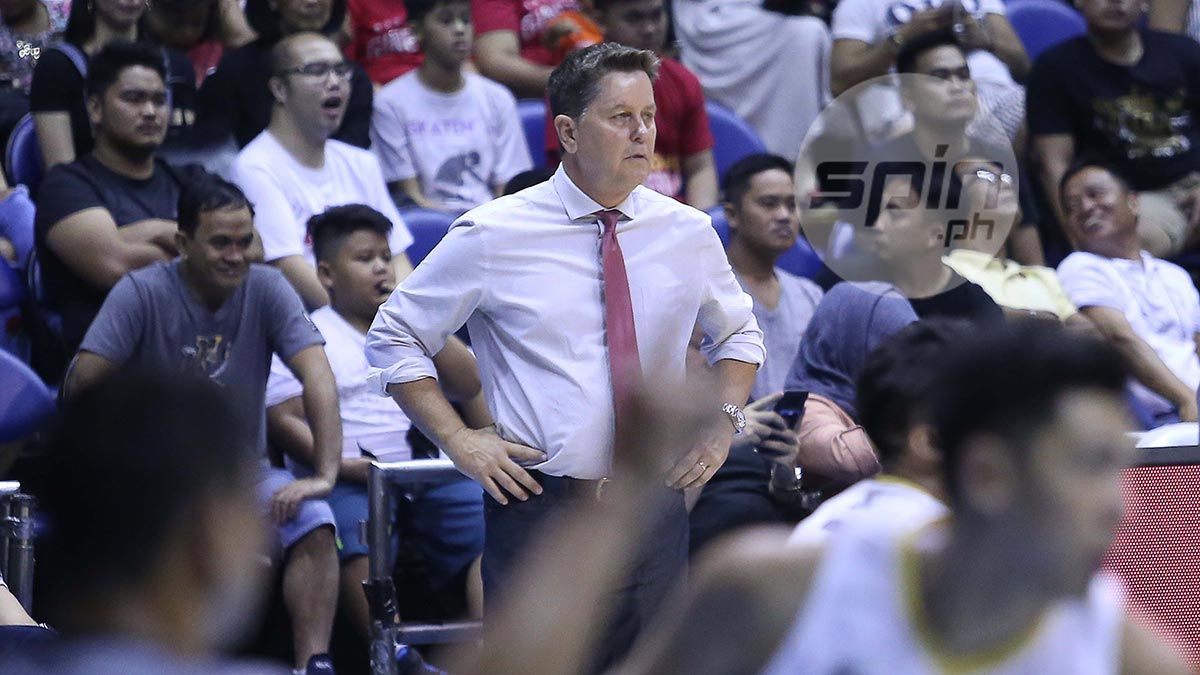 Abarrientos and Fajardo never got there, but Cone is certain a homegrown Filipino player will make it to the NBA sooner or later.
"Our game has gotten very sophisticated in the PBA and I don't think people realize how sophisticated it is in terms of development that goes on right now, in terms of coaching and scheming and stuff like that. It's really high-level," he said.
"We still look at the PBA as if it's the same way as the 80s and 90s, but it's really grown to a whole another level. So we'll develop our guys and I'm sure if someone takes a look, then go."
Abarrientos is just as optimistic.
"Sooner or later, pwede. Kaya naman eh. We tried na makipag-compete sa players na nasa NCAA Division 1 and 2 noong nasa Centennial Team kami. Yung mga nakalaro namin, nakapag-NBA eh. So if you think about it, kayang sumabay eh.
"Wala lang tayong height to compete. Pero yung tiwala na we can get there, yun ang importante. With the age, may konting height, skills-wise, meron naman ang Pinoy eh. Kaya sa tingin ko, five years from now, or in 10 years time, may makakarating doon."
PBA Updates