IMAGINE what would have been had Joe Devance nixed basketball for boxing and went on to become a member of the Philippine team?
Boxing, for those who are not aware, runs in the blood of Devance.
Both his grandfather and father boxed during their younger days and were once Golden Gloves champions in the U.S., so much so that the Barangay Ginebra stalwart also got hooked with the sport as a youngster.
But it was his mom who discouraged him to get involved with the brutal sport of prizefighting.
"My mom never wanted me to box," Devance shared to SPIN.ph. "She doesn't want me to play football either. She was happy with me playing basketball."
Mom of course is Mae Sanz, whose family is originally from Negros Occidental, but migrated to the US in 1975 and settled in Hawaii, where Joe was born.
So boxing's loss was basketball's gain.
With his mom's objection, Devance admitted that his father was supportive at whatever sport his son got involved and not once did he force him into boxing even though he was a big influence to JDV.
"I've always had the passion for boxing. I never box like a professional but my father trained me as a kid," he recalled of his dad whom he described as a 'boxer all his life.'
"He was an all-army champion in boxing, won championships in Euro, and pretty much everywhere he went, he was a champ," JDV added.
Devance, though, wasn't sure if his father tried out for the U.S. boxing team, saying, 'Not that I know of.'
But he was also into football and was a champion wrestler.
"My dad was an athlete during his days, so it was pretty cool," said Devance, which perhaps explained where he got his athleticism.
Eventually, basketball became Joe's calling. The 6-foot-7 forward played high school ball at Burges in El Paso, Texas, and then went to college at UTEP (University of Texas at El Paso), an NCAA Division 1 school.
He played for the Toyota Otis in the defunct Philippine Basketball League (PBL) before ending up as the top overall pick in the 2007 PBA draft by Rain or Shine (formerly Welcoat).
After more than a decade of playing as a pro, Devance is already a seven-time champion, a six-time All-Star, a two-time member of the Mythical Second Team, and was an All-Rookie team member (2008).
Devance credited his father for supporting his basketball career although his leaning was more on boxing.
"Once I took up basketball and started to train, he helped me on basketball," he said.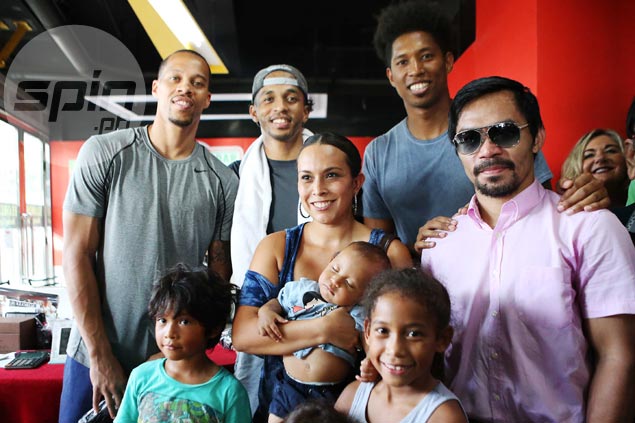 But Joe's eyes lit up when asked what would have been liked representing the country as a boxer in international meets such as the Southeast Asian Games, Asian Games, or even the World Championships and the Olympics.
"That would have been pretty cool, but it's alright playing basketball now," he said with a smile.
Joe has no particular boxing idol when he was growing up, saying he was just a fan in general, who watches boxing on TV together with his dad.
He watched the celebrated Floyd Mayweather Jr.-Conor McGregor fight recently in which he rightfully picked 'The Money Team' to win the bout. Devance is also excited about the coming undisputed middleweight title duel between Gennady Golovkin and Canelo Alvarez.
"I'm more of a Canelo fan than Triple G (Gennady Gennadyevich Golovkin), but we'll see what happens," said Devance.
Of course, he's a certified Manny Pacquiao fan and didn't lose time to watch the legendary Filipino in training at the Elorde gym at the Five E-Com Center at the Mall of Asia Complex during the time the 38-year-old boxing great was preparing for his fight against Jeff Horn.
Devance even came with his entire family and good friend Chris Ross to watch Pacquiao in training.
"I'm friends with some people on his camp, so when I had the time, I go and watch Manny in training," said JDV.
Asked if he's daring enough to spar with the eight-time world division champion, Devance replied in the negative.
"No, no, no," he said. "I don't want to hurt him."