PEOPLE were left wondering why Joe Devance wasn't around when Alaska celebrated its 30th anniversary in the PBA with a party on Thursday night at the Enderun College inside Bonifacio Global City.
Devance was not only snubbed in the selection of the franchise's '30 Greatest Players' in its 30 years in the pro league, it turned out the versatile 6-7 swingman was not invited to the event entirely.
The Ginebra wingman made that known in a tweet on Friday.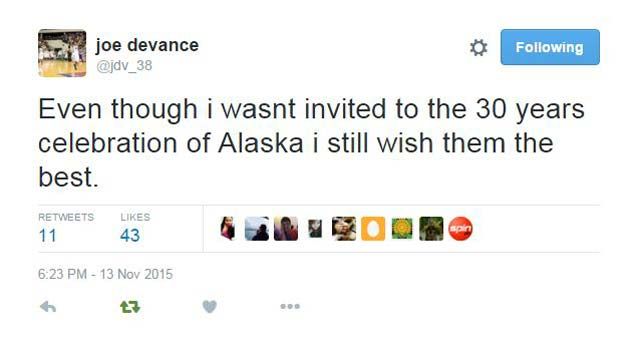 Did Devance earn a place in Alaska's '30 Greatest?' Or an invitation at the very least? Well that's for Alaska to decide since it's the ballclub's party.
[See Alaska honors '30 Greatest Players' to celebrate 30th anniversary in PBA]
Devance, though, played three seasons with Alaska and was part of the team that gave the Uytengsu franchise a championship in the 2010 Fiesta Conference.
He was traded to Air21 Express in 2011 under acrimonious circumstances before finding his way to B-Meg (now Star) and later Ginebra.
Curiously, also not around was Tim Cone, who won 13 championships including a 1996 grand slam as Alaska coach before moving to Purefoods three seasons ago.
Longtime Alaska manager Joaqui Trillo likewise wasn't at the party as well as son Luigi, who led the Aces to their last championship in 2013.
Willie Miller, who won a championship and an MVP award as an Alaska player, was invited but didn't attend while LA Tenorio was present despite the well-publicized spat that led to his transfer to Ginebra in 2013.
Recommended Videos