JIO Jalalon got the brunt of the fines meted on the Star Hotshots in the aftermath of their highly-emotional Game Four loss to Barangay Ginebra in the PBA Philippine Cup semifinals.
The rookie guard was penalized a total of P23,000 for an alleged 'punch' he committed against veteran Sol Mercado in the third quarter of the match the Kings won, 93-86, and for flopping.
Alein Maliksi and Marc Pingris, meanwhile, were also slapped fines for what PBA commissioner Chito Narvasa said were 'comments detrimental to the league.'
Maliksi was at the receiving end of a P20,000 penalty, while Pingris got P15,000.
[See Maliksi comes clean, says 'cooking' gesture not really meant for Star teammates]
Coach Chito Victolero and team manager Alvin Patrimonio escaped being fined, but were given stern warnings by the Office of the Commissioner following their remark on the way officiating went in Wednesday night's loss.
Narvasa disclosed he met with the three players and the two Star officials the day after the game, adding he had a good conversation with them on the matter.
ADVERTISEMENT - CONTINUE READING BELOW ↓
"We have a very good relationship with these people and all it needs to do was to explain to them," said Narvasa just before tip-off of Game Five between TnT Katropa and San Miguel on Thursday.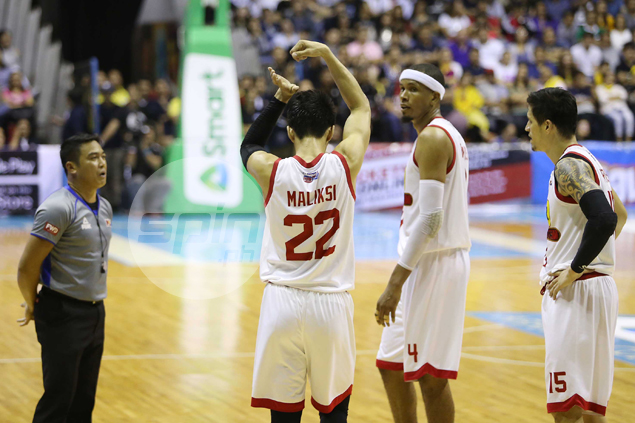 Maliksi was fined for the 'cooking' gesture he did late in the Hotshots' Game Four loss when he was whistled for a foul. He earlier told members of the media the move was directed at his teammates, but shortly after the meeting with Narvasa, admitted in his Twitter account @alleinmaliksi that act was actually to mock the officiating.
After ending his customary post-game interview along the hallway of the Smart Araneta Coliseum, Pingris joked about a forthcoming show on television.
"Abangan ninyo na lang yung cooking show ko," Pingris told mediamen - a joke that cost him P15,000.
[See Pingris jokes after Game 4 loss: 'Abangan n'yo na lang yung cooking show ko']
The Hotshots were the second team to be penalized by Narvasa after the TnT Katropa.
Texters coach Nash Racela was penalized P20,000 for his statement about San Miguel getting 'special treatment' from the referees for being the two-time reigning all-Filipino champions, while Larry Fonacier was also meted the same amount (P20,000) for 'physically contacting a game official' in the Game Four loss.
In all, P50,400 fines were handed out to the telecommunication franchise.