SEEING Jimmy Alapag inside the gym, at 360 PRO in Mandaluyong City to be specific, squeezing in a workout, is no surprise.
But what made this training session unusual was the timing.
It was just over a week since the Meralco Bolts lost in the 2016 PBA Governors Cup Finals to Barangay Ginebra. And just a few days later, Alapag would make his announcement that his playing days are over, this time for good.
Yet at the moment, Alapag was back in the grind, sweating it out doing bear crawls, weighted steps, and pull-ups like a rookie on a mission.
Coincidentally, Ael Banal, the top pick in the recent PBA regular draft, just finished his own session and was stretching out as Alapag arrived.
In making his second retirement known, Alapag noted that turning 39 in December, he was finally walking away from the game he gave his all-out effort in the past 13 years. Still, one would not spot the toll of his stellar career on his body as he's here outworking guys much younger than him.
"Working out and training has been a big part of my life and I'm just here doing the work I usually do," he said.
Continue reading below ↓
Recommended Videos
The transformation after more than six months of his first go at retirement to get back to championship-contender form is already an inspiring feat for Alapag. But what fueled his comeback and his return to form was the same thing that drove him to hit the gym and stay in game shape: his work ethic, professionalism, and competitive fire.
"Every year that passes, you have younger players coming into the league that are more talented, you have to find a way to keep your edge," he said. "Even if the speed and athleticism starts to go away as you get older, you almost fight father time and give yourself those few extra years by keeping yourself in great condition and it allows you to hold on a bit to your edge."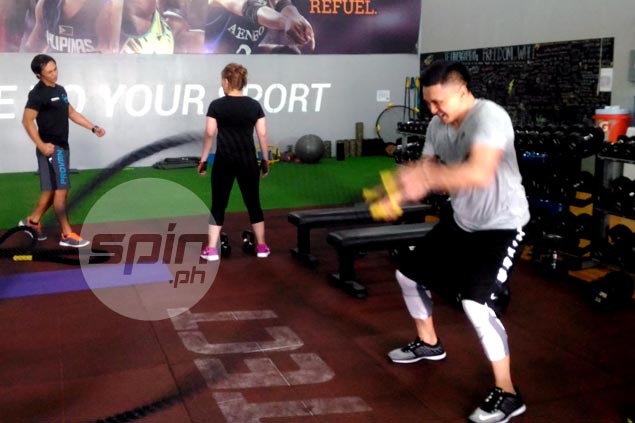 Alapag shared that the key to making sure his body remained ready to play long minutes if needed was adapting to the changes that occur with age.
"It's definitely important that you listen to your body. You're just as focused in the preparation as you are with injury prevention," he said.
He also brought his efficiency and discipline on the court to his training and even to his diet. From his extra workouts, recovery regimen, team practice, down to his meals, Alapag made smart moves that allowed him to push his body on the court while protecting himself from injuries.
Take Alapag's workouts at 360 PRO, for instance. It's not about lifting heavy weights or running fast but strengthening the body while mimicking movements of the game.
"We focus on movements and lifts that are in line with what we do on the basketball court. Whether it's your push off, your jump or lateral movement, we try to simulate that in training so that it's much more fluid and natural when we're on the court," he said.
While he did extra workouts to keep himself in game shape, Alapag also allotted time doing things to aid recovery and keep his body flexible.
"I haven't been that flexible throughout my career but that's something I've been paying more attention to. I do a lot of foam rolling, and stretching. I meet with my trainer making sure everything's moving how it's supposed to, " said Alapag, who also made sure to ice his joints and any sore muscles he might have to limit the toll on his body.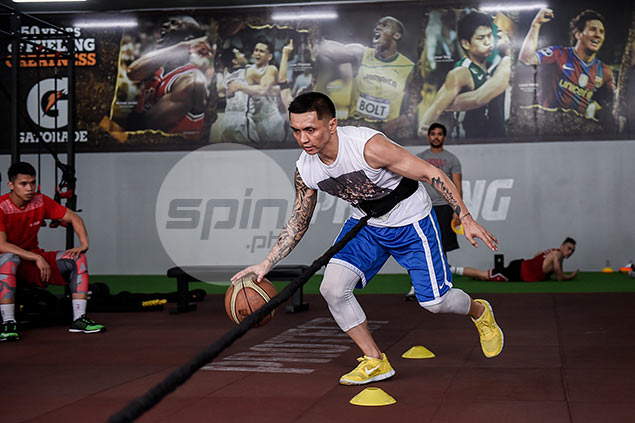 Aside from keeping his physical work to recovery ratio in check, Alapag also understoods the changes in his metabolism and the effect of good nutrition to his body. He has taken to eating healthier meals which he didn't do when he was younger.
"Early on in my career, I ate terrible. I would eat a pizza before a game or chicken and rice. It's one of those things that as you get older, you're almost forced to pay attention to your body," he said, trading junk food for leaner meals like grilled chicken with broccoli and fruits for snacks.
"For snacks, instead of chips or a cookie, it's now unsalted peanuts or peanut butter on a slice of wheat bread or banana slices. I try to maximize the healthy aspect of eating to give me more energy for the physical demands of basketball training," Alapag added.
Understanding the grind needed for him to perform well on the court had given Alapag an added edge. Sure, younger, bigger, stronger players would blow by him at times but they never outworked him. And while he's walking away from the game for good, he's not turning his back on the gym anytime soon.
"It's not always fun, but you have to," Alapag sheepishly smiled.