JIMMY Alapag is not done. Far from it. In fact, he's looking ahead to shape his team's future, though no longer in a leading role. This time, he's mentoring the young stars of the Meralco Bolts. And it's a mentorship that extends beyond the basketball court.
After the embarrassing 1-10 finish to the PBA Philippine Cup, Alapag urged rookies Chris Newsome and Baser Amer to make good use of the long break by hitting the gym early for some extra workouts with him.
The former Gilas team captain bared that being a mentor on and off the court has been his plan all along when he decided to come out of retirement.
"I'm trying to tell Chris, and Baser, along with Cliff Hodge and Jared Dillinger that this is gonna be their team in the next eight to 10 years. My role here is to help lead and impart my wisdom and experience after playing for so long, and set these guys off in the right direction and, hopefully, have a 10-to 15-year career themselves," Alapag said.
Alapag simply leads by example. During a workout at 360 Pro, the 38-year-old point guard keeps up with the two speedy guards, even shouting encouragements as they go through agility drills.
Continue reading below ↓
Recommended Videos
And the two rookies can't help but relish this opportunity, being under the wing of one of Philippine basketball's most beloved stars.
"He's a prime example of what a leader should do. He wants to leave a legacy, to instill that character to somebody coming after him. I told him, whatever he's willing to teach me, I'm up for it," Newsome said.
"I just want to learn everything I can from someone with all that knowledge so I can kinda be in the same category as him, an elite basketball player in the PBA," he added.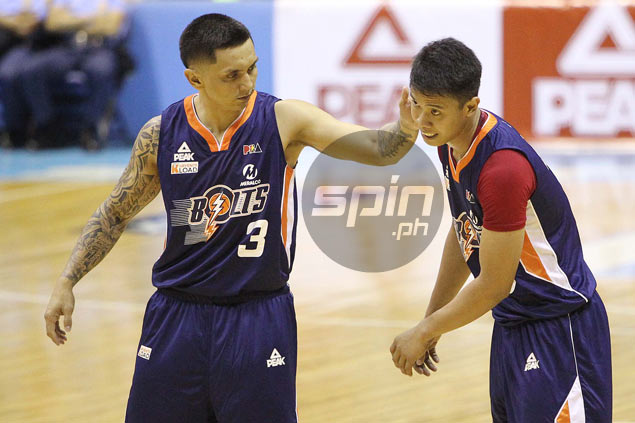 Meanwhile, Amer believes that Alapag's style as a mentor not only boosted his confidence but the rest of the team's as well.
"Para sa akin, leader talaga siya. Wala siyang pinipili na 'ito lang tutulungan ko,' hindi. Lahat kami sa team, willing niyang tulungan," said the former San Beda Red Lions point guard.
"Yung experience niya, shina-share niya sa akin, at lagi kaming nauuna sa practice, nagsho-shooting kami," revealed Amer, who admits Alapag is his childhood idol.
The main lesson Alapag wants to impart on the two rookies not just by teaching his technique but by showing them how hard he works on his fitness is to have the right work ethic, which he says is the key to his success.
"I made a living out of my career as being the hardest working guy in the room and that's the only way to do it, by coming in here and doing the work. In this game, you're never guaranteed or promised a win, but if you do the necessary things for it, you give yourself that opportunity," he said.