AS Rain or Shine fights for dear life in the PBA Philippine Cup, one man is filled with pain and regret.
Rookie Jericho Cruz said it pains him to see the Elasto Painters fall behind, 2-3, in the best-of-seven semifinal playoffs while struggling against Alaska's tenacious full-court press and relentless rebounding.
Cruz could've been a key piece for Rain or Shine in the playoffs, having earned a regular spot in Yeng Guiao's backcourt rotation until he suffered a broken fifth metatarsal in his left foot in the team's final eliminations game.
"Nalulungkot talaga ako. I feel bad for myself and my teammates. Sometimes I blame the timing of my injury," said the former Adamson star, who never experienced a playoff game in the UAAP.
The gutsy rookie in fact played the hero's role in Rain or Shine's 98-95 win over the Aces in the eliminations, scoring 16 points to go with six rebounds, four assists and three steals to win Best Player of the Game honors.
Now all he can do is watch from the sidelines.
"I was so frustrated about not having the feel of the playoffs with Adamson in the UAAP and now that I was looking forward to a (playoff) stint here in the PBA, suddenly, an injury hit me. I hate the timing," a teary-eyed Cruz told Spin.ph.
Even Alaska star guard Dondon Hontiveros admitted Cruz's presence could have spelled a big difference for Rain or Shine in the series.
"Magaling yunh rookie na yun. Aggressive. Saka takbo ng takbo. Tingin ko nga parang pinaghalo siyang Ryan Arana at Jireh Ibanes eh," said Hontiveros.
"Kung andyan siya (naglalaro) syempre makaka-match up 'yun sa guards namin. Kasi aggressive talaga siya eh. Tapos rookie pa. Alam mo naman mga bata, buhos talaga," he added.
Rain or Shine coach Yeng Guiao has rued the unavailability of Cruz.
"Malaking bagay sana kung andyan si Jericho. Kasi bata yun at maliksi. May isa pa sana kaming ginagamit pang-rotate sa backcourt. Kaso andyan na eh," said Guiao.
"But we have been adjusting. They have the full-court pressure, kami naman we like to play the open court. Kaya mahalaga 'wag kang maubusan ng lakas towards the end," he added.
[See Tough break but RoS rookie Cruz confident he can overcome injury hurdle]
Praise from Guiao has barely eased Cruz's pain.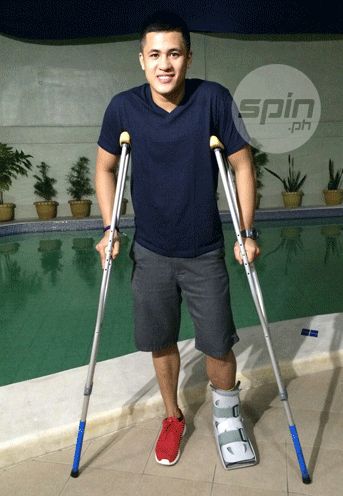 "I don't want the feeling of seeing my teammates lose. I want to go out there and help. But I just can't look at myself now," said Cruz, who continues to go around in crutches.
Cruz claimed that he won't be ready to play until March as his injury is still far from being healed.
"I haven't started rehab. My left foot is still on an aircast," ssid the Guam-raised dribbler.
Still, he expects his teammates to bounce back strong in Game Six on Sunday.
"I saw fire in my teammates' eyes. I am positive they'll show their true form tomorrow. Everyone was hard on practice, and they all took extra time at practice today," he said.
After taking a break during the holidays, the Elasto painters spent four-and-a-half hours in practice on Saturday morning.
"They were all business, even coach Yeng looked upbeat awhile ago. He was in shorts and was all over the place reminding my teammates to go for it and never back down," he said.
"Sabi ni coach: 'Hindi naman kayo mamamatay kung matatalo kayo. But atleast give it your all to prevent this team from losing again.' Those were his words," shared Cruz.
Meanwhile, to further motivate his players to fight harder, Guiao has issued another challenge.
Spin.ph reported last December 26 that Guiao has started penalizing his players with P100 fines for every missed rebound in the Alaska series.
Now he announced that he will be rewarding his players P100 for every offensive rebound won.
[See Emphasizing his point, Guiao slaps players with P100 fines for every missed rebound]