JARED Dillinger was so bummed at missing out on a stint in the PBA Commissioner's Cup semifinals - and a shot at getting back at Ginebra - that he poured out on Twitter.
"That one was tough. Hats off to TNT for sticking it out," the Meralco guard posted on Twitter after a 96-104 overtime loss to the Texters bumped the Bolts out of the title picture.
JD then added a request to their sister team: "Beat Ginebra. I can't stand those guys."
Dillinger understandably wanted another shot at Ginebra, which beat the Bolts in six games in the Governors Cup Finals last season on Justin Brownlee's last-gasp three-pointer.
He and the Bolts actually came so close to achieving the goal until they crumbled in the waning seconds of regulation of Game 3 that doomed them against an experienced team like the Texters.
And with the loss went his chance at payback against the Gin Kings, who he felt the Bolts had a good chance of beating in a grudge match.
"I wanted that so bad I didn't get to play them in the finals before so I was ready," said the big Fil-Am guard shortly after the game at the Smart Araneta Coliseum.
"I was ready to whoop their ass if I have a chance, " a smiling Dillinger added.
As it turned out, the feeling is mutual as far as the Kings are concerned as Joe Devance, Sol Mercado and Greg Slaughter all took the time to respond to Dillinger's tweet in good-natured (we hope) exchanges on the micro-blogging site.
Take a look at the exchanges: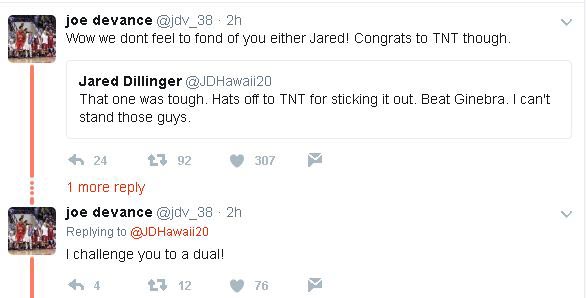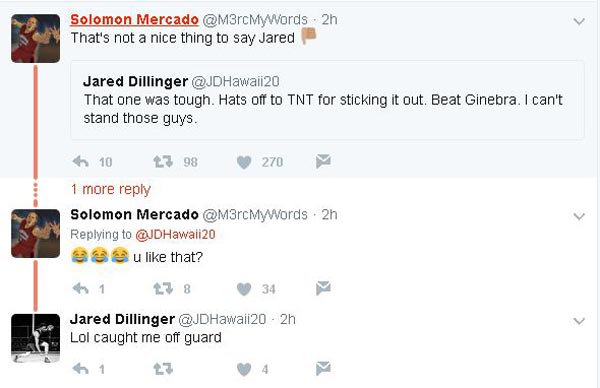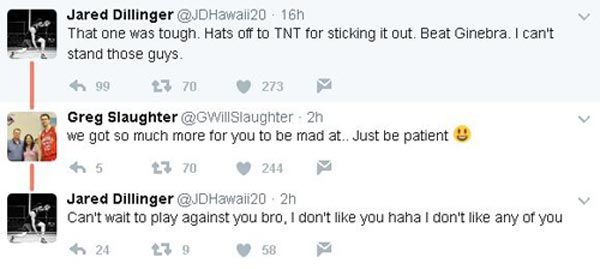 Regardless of the exchange, the 33-year-old native of Rapid City, Dakota said he believes Meralco could have perfectly matched up well with Brownlee and the rest of the Kings.
"That's what we felt, too. Nothing against Ginebra but we felt we have a very good match-up scheme against them," he said. "Against these (Texters) guys was tougher because they have (Joshua) Smith and it kinda cancels out Alex (Stepheson) so it's tough."
But Dillinger, who finished with 20 points (4 of 5 from three-point range) and five rebounds, said the Texters deserve where they are now.
"One of the best in the league," he said of his former team. "You make mental mistakes like that and they'll gonna capitalize."