IT seems Japeth Aguilar never skips leg day.
While he has been working on getting his right elbow back to full strength, the Ginebra star doesn't forget to strengthen the other parts of his body as he worked on his legs on Friday, putting in some gym work after the Gin Kings practice at Upper Deck.
The 6-foot-9 beanpole lifted weights along with model/beauty queen girlfriend Cassy Naidas at the gym on the far end of the building.
"Lower (extremities) lang, pampalakas," Aguilar said in a short chat with a couple of scribes after his routine. "Para more endurance na rin."
The recovery of his right elbow, on the other hand, is going well. After Aguilar hyperextended his right elbow after an awkward fall from a dunk in the game against Blackwater last January 20, he missed the game against Phoenix two Sundays ago, a game they lost by six points.
Naidas is not only a constant companion in rehab; Aguilar earlier bared in a tweet that the lovely model also drove him to the hospital after the freak accident in the Blackwater game.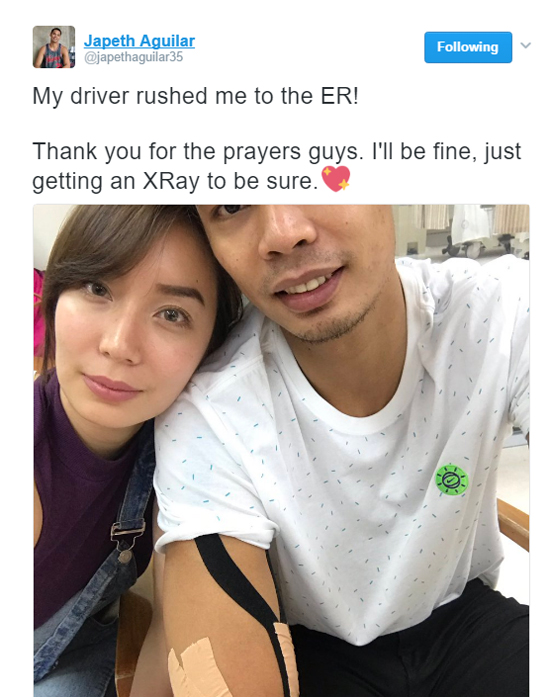 Continue reading below ↓
Recommended Videos
The Gilas Pilipinas mainstay returned to action against NLEX last Sunday in a game where he focused on the defensive end with his elbow yet fully recovered, tallying seven points, nine boards, and six blocks in 36 minutes in the 10-point win.
[See At Ginebra, even longtime staffers are 'Pusong NSD.' Mang Crispin is living proof]
Aguilar's elbow is expected to be near full strength against the Aces on Sunday in their quarterfinal matchup against Alaska.
"Sa practice, hindi na masyado nagbo-bother sa akin," Aguilar said. "Through repetition, nagsho-shooting ako, yun, medyo komportable naman."
Gin Kings coach Tim Cone rated his athletic big man's recover at "eighty, maybe eight-five percent at the best."
"He can shoot now with his right hand and rebound with his right hand, but he can't step out of the three-point line and shoot threes, there's too much pressure on his elbow," Cone said. "He's still got some ways to go."