PUREFOODS Star's new light uniform caused a little confusion during the PBA grand slam team's match against San Miguel Beer on Sunday night, with not a few fans wondering if the faint yellow streak in the lower part of the jerseys looking more like a stain when seen on television.
A closer look, however, revealed that the faint color was not a stain but an elaborate design (see photo below) placed in the uniform of the team when it was re-christened Purefoods after carrying the banner of San Mig Coffee for a couple of years.
Asked about it, a team official later explained to Spin.ph that the design was incorporated into the jerseys by longtime apparel provider Titan - and approved by management.
The new uniform apparently runs consistent with the brand the team promotes - hotdogs with Star margarine.
Purefoods star James Yap said he is not aware of the confusion over Purefoods' brand new-uniform, but he knows of one way to put the talk behind them.
"Actually, alam mo ano sikreto diyan? Manalo lang ng manalo, gaganda ang uniporme namin," said Purefoods' resident superstar.
"Kasi kung may nagsasabi na pangit o ano man, manalo lang ng manalo, gaganda uniform namin. Kaso natatalo lang kami kaya pangit."
Continue reading below ↓
Recommended Videos
Winning however, has been elusive for the reigning champions early in the PBA Philippine Cup after absorbing their second straight loss following an 87-80 beating at the hands of San Miguel Beer Sunday night.
Yap, who was a late scratch from the Purefoods roster for the San Miguel game owing to a calf muscle injury, said he actually didn't notice the yellow streak.
"Baka design `yun," said the two-time league MVP.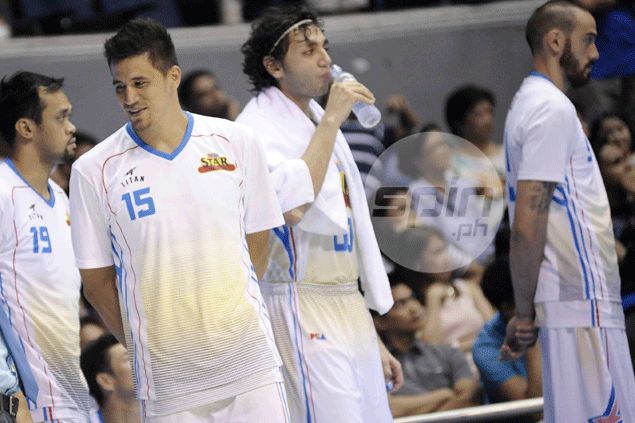 Regardless, Yap said the Hotshots don't have control on public opinion.
"Maganda naman ang uniform namin, pero di naman natin hawak yan (public opinion), kasi may kanya kanya tayong paningin," he said.
But Yap's concern right now doesn't have anything to do with the fans' opinion of Purefoods' uniform, but more on how to get the Hotshots back on winning track.
The All-Filipino champions suffered a second straight loss and are now in the company of expansion team Blackwater and Barako Bull in the cellar.