IF you care to put a status update on the playoff fate of four teams seeing action in the final playdate of the PBA Commissioner's Cup, only one thing comes to mind.
It's complicated.
The stakes are no doubt high when Alaska Milk takes on San Mig Super Coffee and Barangay Ginebra battles Rain or Shine on Sunday at the end of the pro league's three-day break for the Holy Week.
Needless to say, the Easter Sunday playdate may mean a rebirth for either Ginebra or Rain or Shine, two teams which have struggled to put their acts together in the midseason conference.
(NOTE: To better understand the scenarios, we need to make the quarterfinal format clear: No. 1 meets No. 8 while No. 2 meets No. 7 in a pair of playoffs where the higher seeds will enjoy twice-to-beat advantage; No. 3 meets No. 6 while No. 4 faces No. 5 in a pair of best-of-three series.)
At this point, only two things are certain: Talk 'N Text is guaranteed the top seeding by virtue of its nine-game sweep of the eliminations while San Miguel Beer is a lock at No. 2 with a 7-2 (win-loss) record.
Among the four teams seeing action on Sunday, Ginebra's situation is the simplest: The Gin Kings, currently at 3-5, will end up as the No. 6 seed with a win over Rain or Shine and at No. 8 with a loss.
Climbing to No. 6 would mean a best-of-three playoff for Ginebra against either Alaska or Meralco, depending on the result of Alaska's match against San Mig, while a No. 8 seeding will mean a daunting face-off against a twice-to-beat Talk 'N Text.
On the other hand, the lowest that Rain or Shine could go is No. 7, which would mean a quarterfinal showdown with a twice-to-beat San Miguel. However, Yeng Guiao's Elasto Painters - enjoying a better quotient - can go as high as No. 3 or No. 4 with a win over Ginebra.
As for Alaska and San Mig, both are guaranteed places in the two best-of-three series, but the result of their Sunday duel will determine which teams they will face in the quarterfinals.
The defending champions Aces can end up at No. 3, No. 5 or No. 6 depending on how the two matches play out, and could face either Ginebra, Rain or Shine, or San Mig in the quarterfinals.
San Mig can end up either as the fourth, fifth, or sixth seed, and could meet either Alaska or Meralco in the Final Eight.
Waiting in the wings is Air21, which could go down to No. 8 with a Ginebra win or settle at No. 7 with a loss by the Gin Kings.
Well, if you think that's not complicated enough, here's another catch: Alaska, San Mig, and either Ginebra or Rain or Shine will have to play the next day, Monday, to begin their respective best-of-three series.
Here now is a table to better understand the looming quarterfinal pairings: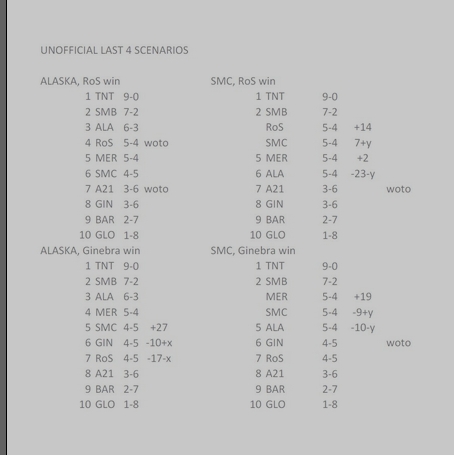 * woto (winner over the other rule)