WAS your favorite PBA team built or bought?
Based on the current rosters of the 12 member teams, trade deals, more than the rookie draft or free agency, remain as the viable and more popular way for a franchise to assemble a unit capable of winning a championship.
Although no team would certainly turn its back on a good trade, figures collated by Spin.ph have shown that ballclubs busy with the wheeling and dealing of players were those which have won the most championships in recent years.
Take San Miguel Corp.-owned ballclubs and those controlled by the Manny V. Pangilinan bloc for example.
The two rival organizations are the two most active teams on the trade market, and a look at the figures showed they have won the most championships over the past three seasons.
The aggressive pursuit and relentless trading have so far paid off handsomely for the San Miguel and Star franchises, which together had won six of the last nine conference titles, including a grand slam by the Hotshots in 2014.
Talk 'N Text accounted for two championships, with Alaska the only one to break through the SMC-MVP stranglehold.
To be fair to SMC, most of the biggest stars in its teams were taken from the draft, namely June Mar Fajardo (San Miguel), James Yap (Star), and Mark Caguioa and Greg Slaughter (Ginebra), as well as potential stars in the mold of Ian Sangalang, Justin Melton, and Chris Ellis.
Continue reading below ↓
Recommended Videos
In fact, five players from the current Ginebra lineup came from the rookie draft.
See CHART.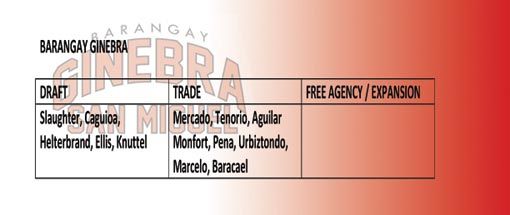 The two other SMC teams were mostly built through trades, with the SMB lineup only having three former draft picks in Ronald Pascual, Chris Lutz and Fajardo and Star the same number in Justin Melton, Yap and Sangalang.
See CHARTS.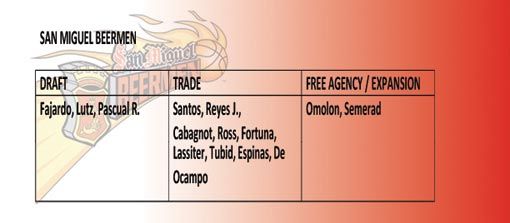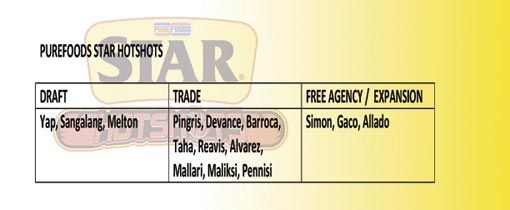 But a more glaring difference in terms of players taken from the draft and from trades can be seen from MVP-owned teams Talk 'N Text, NLEX and Meralco which - hold your breath - had a grand total of five rookie draft picks in their lineup.
From Talk 'N Text's lineup, the only draftees are Jayson Castro and Harvey Carey. From Meralco, there was only Cliff Hodge and Anjo Caram. NLEX had just one in rarely used Eric Camson.
See CHART.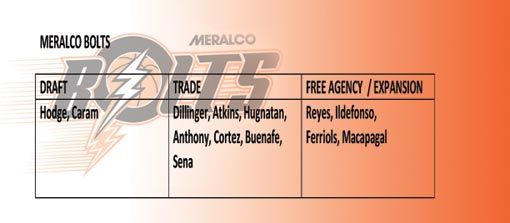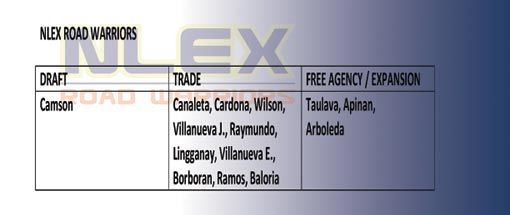 If there is one team that can serve as a shining model to the theory that the rookie draft is still the best way to build a title contender, it should be Rain or Shine.
From Yeng Guiao's band of scrappy players, no less than 10 players were taken from the rookie draft, namely Gabe Norwood, Paul Lee, Jireh Ibanes, TY Tang, Jeric Teng, Ryan Arana, Raymon Almazan, Jericho Cruz, Jervy Cruz, and Chris Tiu.
Actually, you can make it 11 if you consider that Jonathan Uyloan is a former practice player not given a second look by other teams who rose to become a mainstay at Rain or Shine.
It is also important to note that the three players taken by Rain or Shine through trades - Beau Belga, Jeff Chan and JR Quinahan - only shone upon joining the independent team co-owned by Raymond Yu and Terry Que.
See CHART.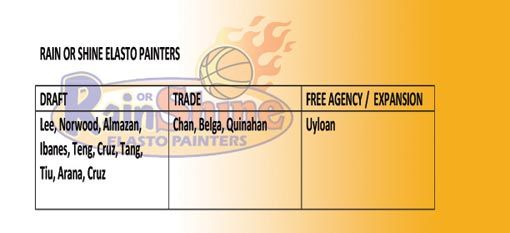 From the remaining teams, Alaska and young team GlobalPort appear to be going for the same model as Rain or Shine.
Alaska's lineup from last season had four key players taken from the draft, namely Calvin Abueva, Sonny Thoss, Chris Banchero and Ping Exciminiano.
On the other hand, owner Mikee Romero has been able to build a solid core at GlobalPort with draftees Terrence Romeo, Stanley Pringle, Anthony Semerad and John Pinto.
See CHART.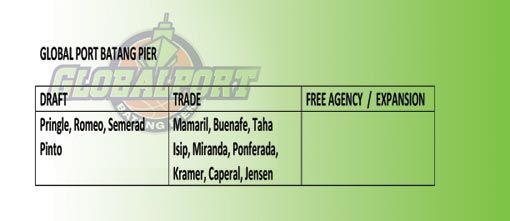 Below are the charts of the other teams. Now you tell us: Is your favorite PBA team built or bought?