SELDOM do the men in stripes get the sympathy of players, coaches, officials, and basketball fans alike.
And it's unfortunate referee Emmanuel 'Emi' Tangkion is no longer around to see the outpouring of compassion to men performing what many considered as the most thankless job in all of sports.
The shocking death of one of the most capable game officials in the PBA today has put a kind and jolly face to one of the most hated characters in basketball.
Tangkion collapsed during a referees' workout on Tuesday at the JCSGO gym in Cubao, Quezon City. He was 47.
Continue reading below ↓
Recommended Videos
His death came on the day Asia's pioneering pro league marked its 44th anniversary.
"Kahit na makikita natin na ang coaches minsan nagagalit sa referees, ang crowd nagagalit sa referees, they're an integral part of the family," Magnolia deputy coach Jason Webb stressed.
"Ang PBA, maski ano ang sabihin mo, maski magkakalaban ang teams, maski nagkakasakitan, when you lose a member of that family, there is mourning and pain in that situation," added Webb, who himself had some brushes with the referees in the past especially during his time as head coach of the Purefoods franchise.
Just like everybody else, Barangay Ginebra guard LA Tenorio was shocked upon learning about the death of Tangkion, who he describes as one of the referees he can crack jokes with.
"It's really sad. Siyempre kapamilya natin sa PBA yan, kasama natin sa PBA yan. Anuman ang mga nasasabi natin sa kanila, they're still our family," said Tenorio.
Ironically, Tangkion officiated Game One of the Philippine Cup quarterfinals series between Magnolia and Barangay Ginebra last Saturday in what would be the second to the last match he got involved in.
Naturally, in the heat of the moment, scathing words were said and spoken.
"Alam mo naman sa game. Minsan nagkakamali din (referees), doon ka mapapasigaw. Pero kay Emy wala yun, walang personalan. Ngingiti-ngiti lang yan," said longtime Purefoods team coordinator Jojo Peralta.
"Mabait na tao," he added of his fellow Pangasinense, who he fondly called 'Lakay.'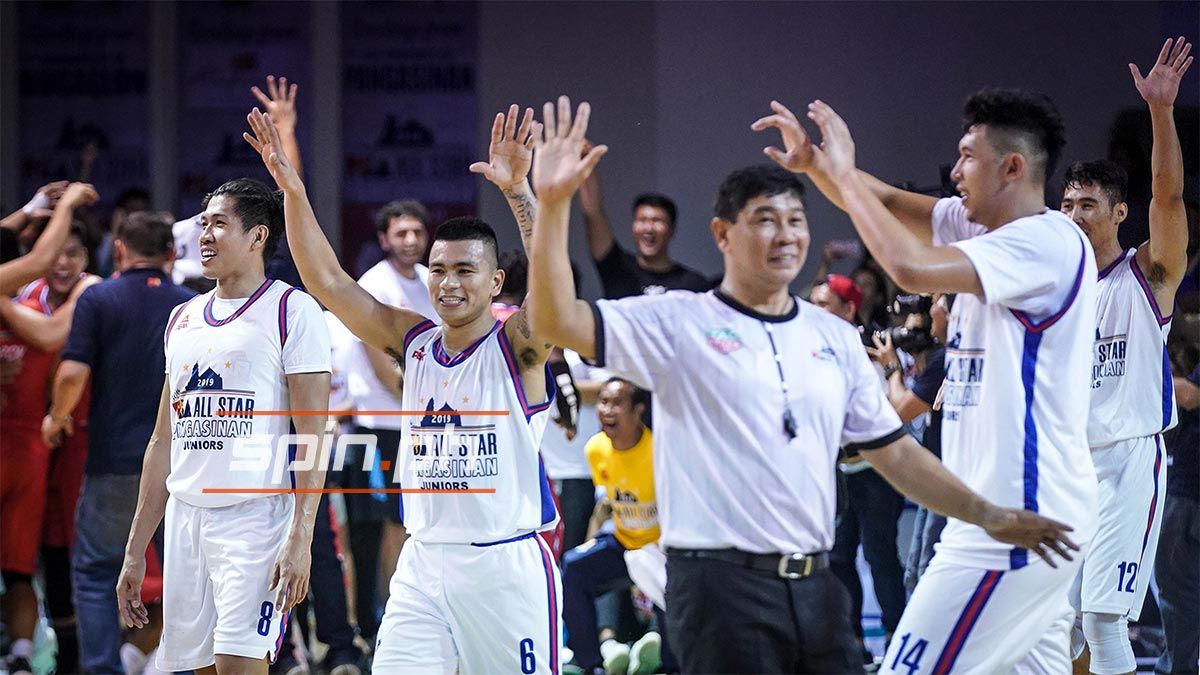 Webb also remembers Tangkion in the same light.
"Very amiable, mapag-pasensya to the coaches. Like I said, even us coaches, we expect them to be perfect," he said.
"But even if you watch the NBA and the PBA, mas meron pa ngang masasamang tawag sa NBA kaysa sa PBA. Pero yun na nga hindi naman yan mga computer."
Even as a player, Tenorio knows being a referee is the most difficult job in all of basketball.
"Mahirap ang buhay ng referee, parang wala silang tama na ginagawa," he said.
"As a player, being emotional yung game, you would complain, may masasabi kang hindi maganda. But you have to realize that at the end of the day, they, the referees, are just doing their job."
Webb agrees.
"Sometimes nakakalimutan natin to humanize the referees, and I think this situation really humanizes them," he said. "That they're special part of this league na hindi natin nabibigyan ng credit."
But for his colleague and fellow official Jimmy Mariano, Tangkion is just a simple man who's truly dedicated to what he's doing.
"Napaka-professional sa lahat ng gawain at hindi tumitigil para matuto," said Mariano, who had worked with Emy for more than a decade, including eight years in the PBA.
"Simple lang at masayahing tao," he added. "Parang magkakapatid na ang turingan namin dito."
[Editors' note: Tangkion's remains lie at the family residence in Phase 6 Purok 2 G.V.A Barangay 178 Camarin, Caloocan City. Interment will be announce later.]