Looking back now, people – myself included – who thought then that they had seen the last of him and, just as Alapag had feared, dismissed him as an undersized and overrated player had no idea how he was raised, or of how hard he had worked to get to that point. We had no idea how he was inspired by a father who worked his tail off to raise six kids in the US and was tough enough to beat cancer three years ago. Or of how he was toughened by a brother who was so hard on the youngest of six kids in the family, just so he can stand up to any form of adversity when the time comes.
"My brother Cris was probably the best athlete in the family, ran track for a while at Long Beach State. He was a huge influence on me. Not only did he teach me about the game, but he was tough on me as a kid. I'm eight, nine years old and he'd always say, 'I'm being tough on you because, if you can take what I'm dishing out to you – the physical and verbal punishment I'm giving you at this age, when you get to 15, 16, nothing will affect you because that thick skin will always be there.'"
Convincing a young Alapag to work harder than anybody else wasn't hard, considering the example set for him so early in life by his dad. Crispin Sr. worked eight days a week not because he wanted to but because he had to, just so he can keep a big family afloat in a foreign land.
"It would be Sunday afternoons and my dad would be at the office working and I would say, 'Hey dad, what are you doing? It's Sunday.' And he would say, 'I have to work.' Just having that example at home every day taught me that whatever it is that I want to do in my life, be it basketball, doctor, lawyer, whatever it might be, there's no substitute for hard work. Having a dad who is the prime example of that kinda set the foundation early for me.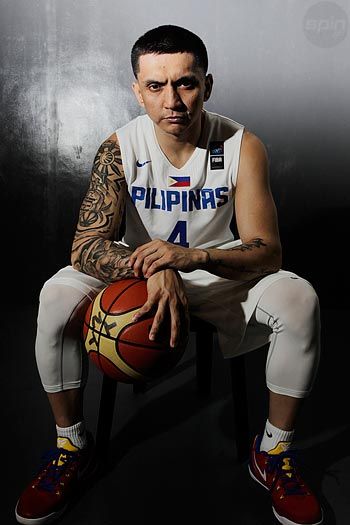 "I tell people all the time, I didn't grow up in the Philippines but I still grew up in a home with two Filipino parents who made sure we held on to the values of being a Filipino – the work ethic, the heart, and the respect that you have to fight for, the love for family. Those things I still hold on to and want to apply to my own family now."
But not even that could keep him from being driven to the verge of resignation when he faced his first real test as a basketball player, back in second year high when he couldn't break into the varsity team's main rotation, even if he was the first to arrive for practice and the last to leave, and later watching all those basketball games on television, anything to make him better.
"Halfway through the season, here I am 16 years old, I told my brother, 'I'm done. I'm quitting tomorrow,'" Alapag recalls with a laugh now. "He asked, 'Are you sure?' and I was adamant, 'Yes, I'm quitting. I was the first at practice and practicing after practice and studying the game and watching video, it's not working so I'm done.'
"My old high school coach is still a close mentor to this day and I remember going to his office and dropping my bag and saying, 'Coach, I quit.' The only time in my life those words came out of my mouth. And we ended up having a long conversation, almost an hour. And he just said, 'You know, Jimmy, I'm not gonna let you quit because you're better than that and you're stronger than that.'
"He said, 'I know you're frustrated, I know it's not easy. But I promise you, if you keep doing this and keep working hard and keep pushing yourself, it will work out.' And he made me look at life in a more positive way. So I took my bag, brought it back home, and that was the last time I ever said, 'I quit.' We actually laugh about that a lot nowadays."
So when he went back to the US to rehab his broken hand and get ready for the PBA rookie draft six months down the road, the last thing in his mind was the word  'quit.'
"Leaving (the Philippines after the injury), I feared people will forget about me and say, 'See, he's not good. He's gone back to the US and we won't hear from him (again),'" Alapag says. "My main goal when I went back to the States was to make sure that when I came back for the (PBA) draft, I would be ready.
"I wanted people to think differently, and I wanted people to believe what Coach Ron believed, that I could do well here. I didn't want to let him down, didn't want to let my family down."