A NEW era dawned in San Miguel Beer's history on Sunday night when June Mar Fajardo and the rest of the Beermen retained their PBA Philippine Cup championship by dispatching Barangay Ginebra in five games in the finals.
The championship was the third straight in the all-Filipino for the Beermen – and a PBA-record 23rd in all for the fabled franchise which became only the second team in league history after TnT Katropa to achieve the feat and earn the Jun Bernardino Perpetual Trophy.
Overall, it's the fourth championship for coach Leo Austria and his team since the 6-foot-10 Fajardo arrived in 2012 and began a renaissance for a franchise that got stuck in years of 'Petronovela' after decades of success in Asia's first ever play-for-pay league.
The reign easily evoked memories of past San Miguel teams that also managed to make their mark during their time in Asia's first professional cage league.
Like Fajardo today, those past San Miguel sides also had the benefit of having a solid big man in the middle – four-time MVP Ramon Fernandez when coach Norman Black was at the helm, and two-time MVP winner Danny Ildefonso for coach Jong Uichico.
We are not iso much into fantasy leagues, but it will be interesting to know how 'The Kraken' and the Beermen, who Austria admitted have the best starting five in the league today, fare against the team of 'El Presidente' and 'Demolition Man?'
So we asked Uichico.
Uichico admitted to SPIN.ph it's a lot easier pointing out the similarities more than the difference between his team and the current San Miguel squad.
ADVERTISEMENT - CONTINUE READING BELOW ↓
"Both teams definitely have a reliable frontcourt. You have June Mar today, and we had Danny I and Danny S (Seigle) at the time," he recalled.
Like Austria, Uichico, who took over the SMB reins from mentor Ron Jacobs, also relied heavily on his starting unit and limiting his rotation to nine players at the most, although it's not because of a lack of depth.
Aside from the two Dannys, Jong also had in his lineup Olsen Racela, Boybits Victoria, Art dela Cruz, Nic Belasco, Dondon Hontiveros, Dorian Pena, Dwight Lago, and Michael Mustre, among others.
This SMB side went on to win six championships from 1999 to 2005, a stretch that saw the 6-foot-6 Ildefonso blossom into a league power by winning back-to-back MVPs in 2000 and 2001 and five straight Best Player of the Conference award from 2000 to 2001.
Until Fajardo and Co. won three straight Philippine Cup crowns, the team of Uichico was the last San Miguel squad to clinch the all-Filipino championship in 2001.
"Like this (San Miguel) team, we also have outside shooters and role players who perfectly complement our starting five," said Uichico.
He added Racela and Victoria were more like the tandem of Chris Ross and Alex Cabagnot, who don't need to score heavily for the team to win.
"So almost similar ang style and structure nung two teams," said Uichico.
The only difference?
"This team can run and gun even with June Mar inside, whereas kami we really had to play deliberate ball to have a chance of winning," said the 54-year-old Uichico, a nine-time champion coach.
He also believed Austria has more firepower in his arsenal, with Marcio Lassiter and Arwind Santos completing the starting five, and the likes of Ronald Tubid, Gabby Espinas, Yancy de Ocampo, and RR Garcia coming off the bench.
"Mas may firepower ito," Uichico pointed out.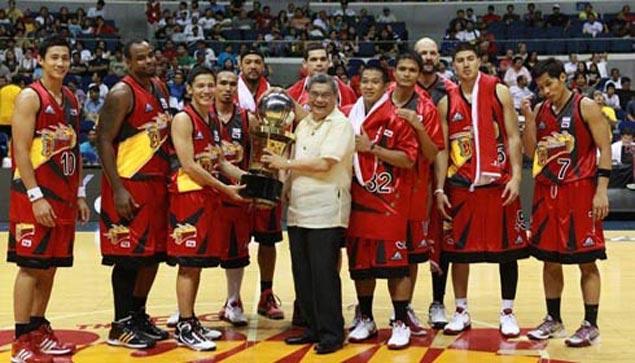 There was no doubt, however, that if there is a San Miguel team that can match - if not surpass - Fajardo and Co. in terms of talent and depth, it should be Black's team of the eighties.
Black's San Miguel crew - most of them remnants of the Northern Consolidated national team - left an imprint as the league's next dynasty after the fabled Crispa Redmanizers. The Beermen actually, became only the second squad after the Floro-owned franchise to win a grand slam in 1989.
It's roster was likewise a veritable who's who in the league, led by Fernandez, Ricardo Brown, Hector Calma, Samboy Lim, and Ato Agustin, with the likes of Yves Dignadice, Franz Pumaren, Elmer Reyes, Alvin Teng, Bobby Jose, Pido Jarencio, Dong Polistico, and Jeffrey Graves serving as role players.
ADVERTISEMENT - CONTINUE READING BELOW ↓
Allan Caidic would eventually join the team.
Like Uichico, Black sees a lot of similarities his squad and the present-day Beermen.
Although the eighties Beermen didn't have a behemoth in the middle like Fajardo, their guard rotation with Brown, Calma, and Agustin was in a league of its own, the multi-titled coach added.
"We have the same situation back in 1989, but obviously, we do not have the size because of June Mar," said Black, who served as TV panelist during Game Five of the title series between the Kings and Beermen.
"But we did have a lot of talent in the middle that can score in the paint, get rebounds, and play defense," he added. "And we probably had little more depth loaded on the guard position back in those days."
Four players in Black's roster ended up being named as MVP, namely Fernandez, Brown, Agustin, and Caidic, although the 'Triggerman' won the award while still playing for Presto, while 'El President' had his three previous trophies with Toyota and Beer Hausen.
Sacrificing for the sake of the team is also a similarity between the two teams, according to Black.
"Chris Ross hit the nail on the head when he said (during the post-finals interview) that they sacrifice for one another," he said. "One has to sacrifice because all players are good, others could have become stars on other teams, and that's the way it should be. Everybody must be committed to winning.
"And my players did that back in 89."
Although not in consecutive fashion, Black's team also won three all-Filipino titles, the last of which came in 1994, which earned the franchise the right to represent the country in the Hiroshima Asian Games.
But Austria made a case for his talented team, saying winning three straight Philippine Cup championships is more difficult than winning a grand slam.
"It's really hard to win three championships in the all-Filipino, unlike the grand slam. Si coach Tim Cone naka-dalawa na, si coach Norman merong isa, si coach Baby Dalupan meron din, so apat na sila," said Austria, who failed to mention Tommy Manotoc as the other grand slam-winning mentor.
"So this is harder than the grand slam."
Austria also pointed out that his team is only the second one to do the feat after TnT. But unlike the Texters, all of the Beermen's three straight Philippine Cup crowns all came under him.
ADVERTISEMENT - CONTINUE READING BELOW ↓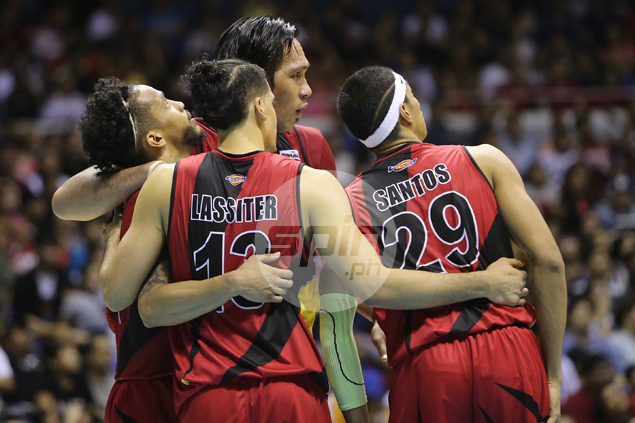 Austria also takes pride in his starting five, which is regarded as the best in the league because it has achieved a level of camaraderie not seen in other equally talented teams.
"I keep hearing regarding these five players as the best starters in the league. Maybe not, maybe yes," Austria said. "But kung ang pag-uusapan ay yung camaraderie and effort nila, I think they are."
But compared to their predecessors at SMB, the competition figures to be tougher. While Fajardo-Santos can hold its own against Fernandez-Dignadice or Ildefonso-Seigle, there's no doubt that Black's eighties team has the best backcourt.
Black's Beermen won nine championships together and Uichico's six. The present-day team have won four, but they're just starting. Fajardo is just 27, Lassiter 29 and Ross 31 while a 27-year-old Garcia is learning from Cabagnot, guaranteeting SMB a solid core in the years to come.
Asked who he thinks will prevail if the 1989 SMB team battles its 2017 counterpart in a fantasy game, Black tried to be as objective as he can, stressing Fajardo will certainly be a problem for his big men owing to his sheer size and skills.
"Obviously, we will have a difficult time with June Mar because my big men, most of those guys stood at 6'5 or 6'4 and June Mar is 6'10," he pointed out. "There would have been a lot of double teaming and rotation on defense."
His team's talent though, would be hard to overcome, according to Black.
"They would also have a hard time taking on Mon Fernandez, who can score, defend, and had the smarts for basketball," said the champion coach.
"We also have an exceptional guard lineup," added Black, pointing out that his backcourt had so much talent in Brown, Calma, Agustin, Caidic and Lim that "we only had Elmer Reyes and Franz (Pumaren) coming off the bench."
In the end, Black believes his team has the edge against this modern-day Beermen.
"Of course, my team will win," he stressed. "We have enough talent to win."
Agree or disagree?